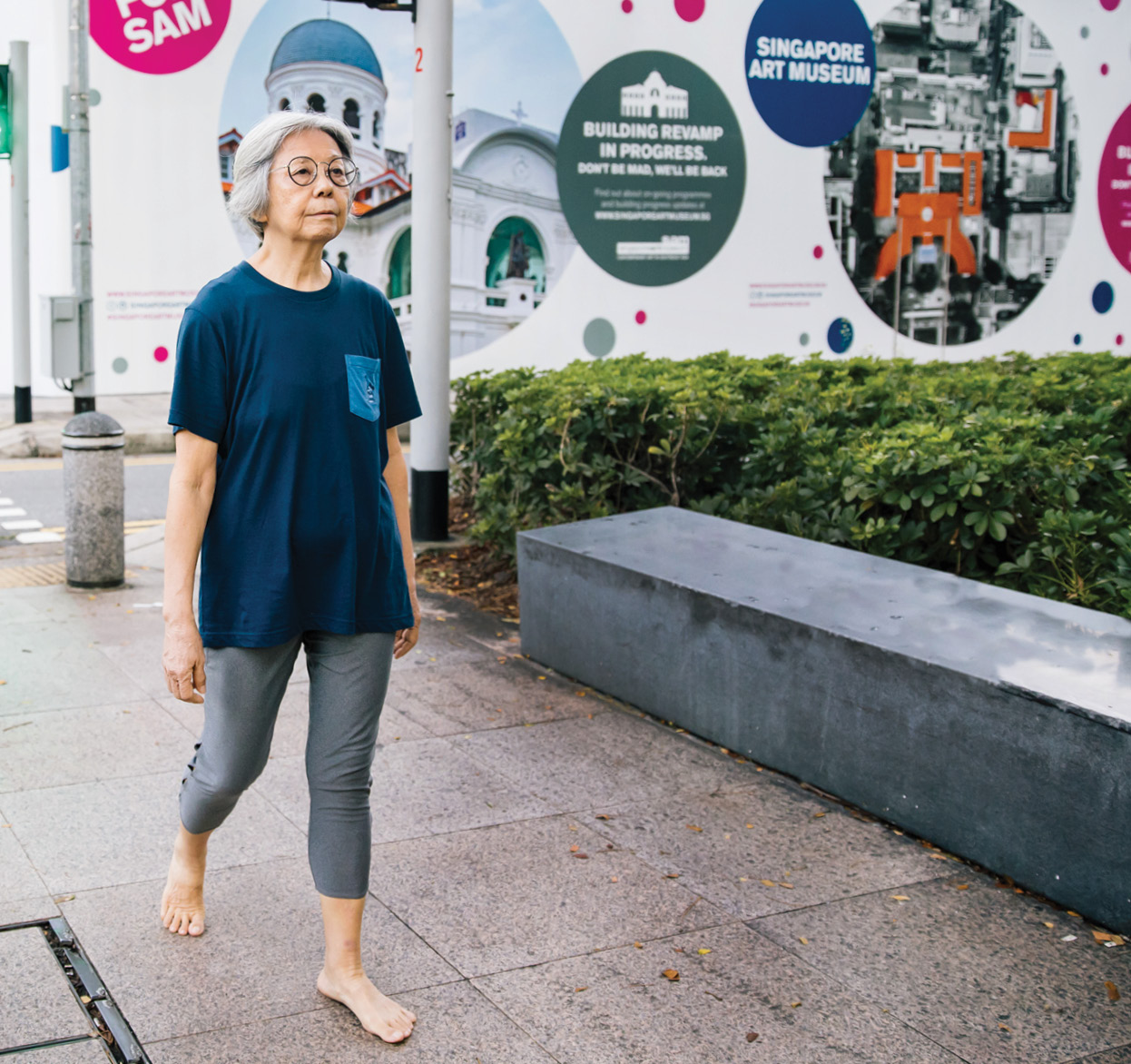 Amanda Heng in a live walk performance, as part of her work Every Step Counts (2019) at Singapore Biennale 2019: Every Step in the Right Direction
SINGAPORE ART MUSEUM
19/20
YEAR IN REVIEW
Download
FY19/20 Year in Review PDF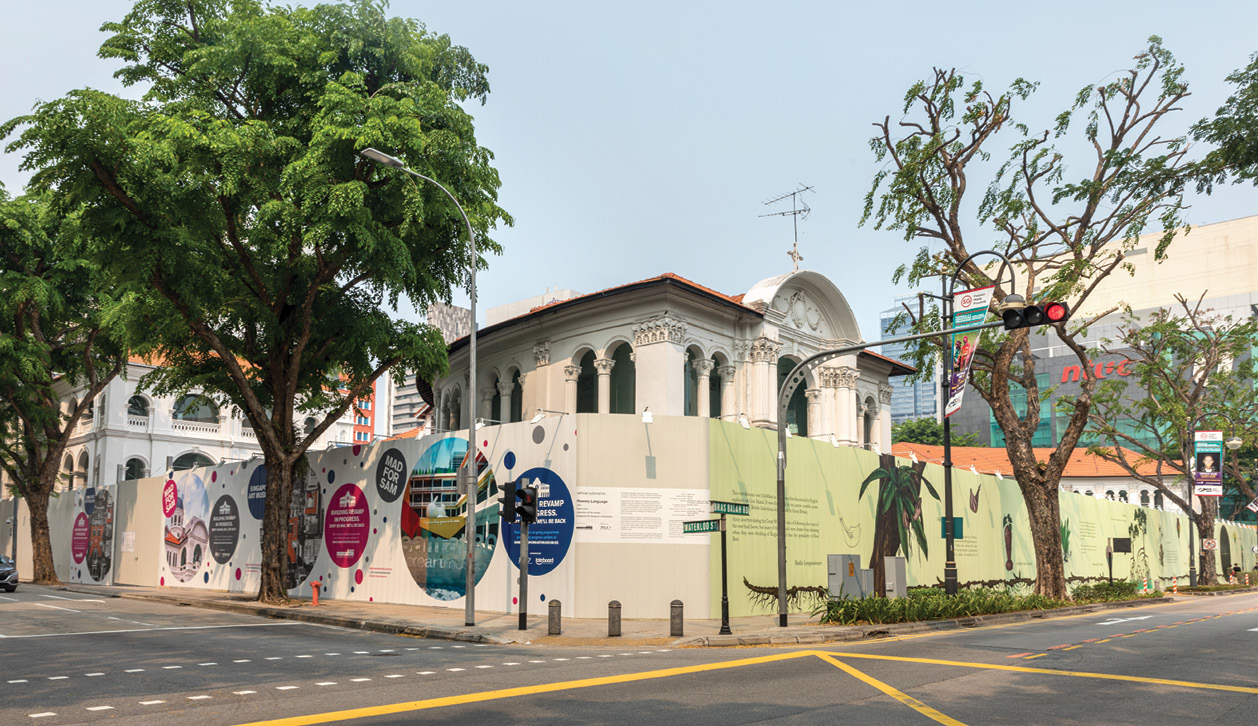 Hoarding around SAM's main building. On the right is a work by local art collective vertical submarine, titled Flowery Language (2019).
2019 was truly a year of momentum and change for the Singapore Art Museum. Also known as SAM, we are home to one of the world's most important collections of contemporary artworks, especially from Southeast Asia. In April 2019, Dr Eugene Tan took to the helm as our museum director. In the same year, we closed our historic museum buildings to undergo their first major transformation since opening in 1996. The closure of our buildings saw partnerships forged in Singapore and internationally to present contemporary art beyond our museum walls. These presentations and programmes are part of SAM's longer-term plans to prepare for our reopening as a leading contemporary art museum in the coming years.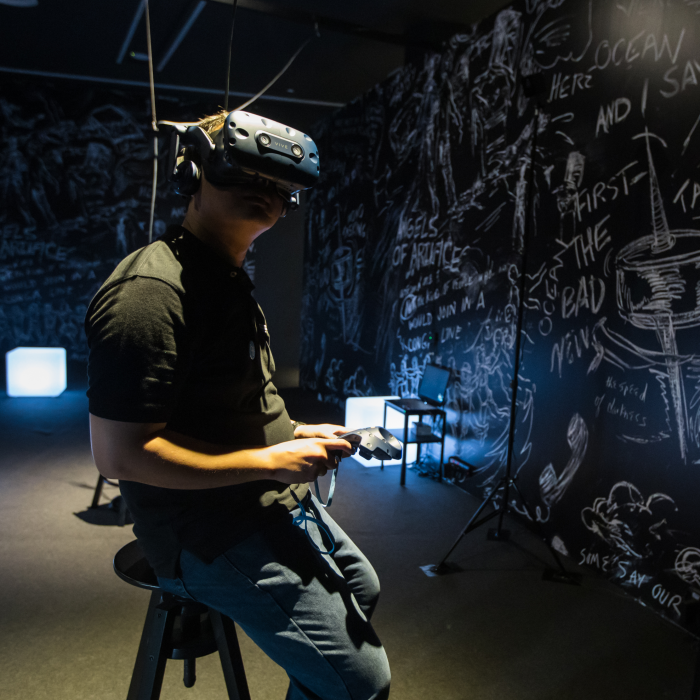 VISION
SAM will be pivotal among contemporary art museums in the region, inspiring humane and better futures through meaningful encounters with art.
MISSION
SAM champions contemporary art in Southeast Asia, in active dialogue and collaboration with artists, partners, and audiences; through our collection, educational outreach, research and thought-provoking exhibitions.
A visitor engaging with the work La camera insabbiata (The Chalkroom) (2017) by Laurie Anderson and Hsin-Chien Huang, shown at Singapore Biennale 2019: Every Step in the Right Direction.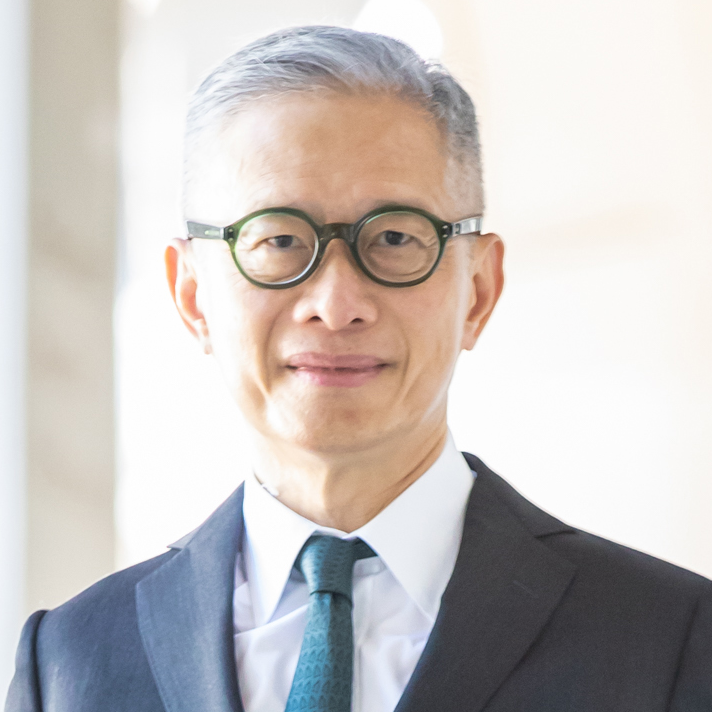 Edmund Cheng, Chairman of SAM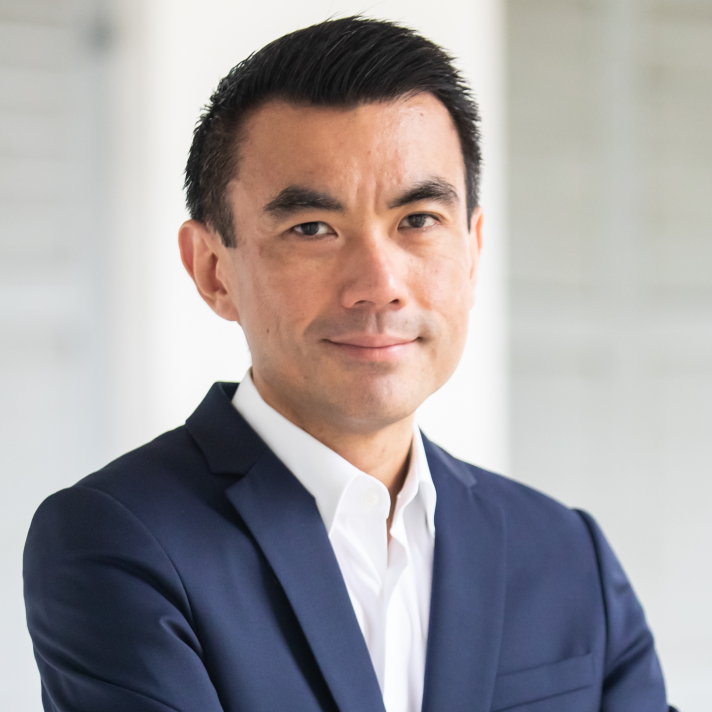 Eugene Tan, Director of SAM
"
Lasting change may come only in diligent, incremental efforts and not in a singular stroke of the avant-garde." Patrick Flores' quote, in reference to the title of Singapore Biennale 2019, aptly echoes SAM's journey in the past year. In 2019, we closed our museum's heritage buildings for a major redevelopment that will transform our spaces and help SAM meet the needs of a contemporary art museum of the future. This necessary transition has challenged us to think deeply about the concept of a "museum without walls" and how we can continue to enable authentic and meaningful engagement with contemporary issues and aspirations through the art of our times.
The period of building redevelopment is as much an opportunity for us to reimagine how SAM can become even more inclusive, creative and inspiring, as it is for us to forge new collaborations and explore innovative initiatives with not just the art community, but also schools and education partners, cultural organisations and museums, both in Singapore and internationally.
Without walls, we have travelled contemporary art into local neighbourhoods in Singapore with the SAM Mini Mobile Museum, and to neighbouring countries across Asia through collaborative exhibitions, bringing art closer than ever to our audiences.
Beyond our buildings, we have connected with those in the community such as seniors and the visually impaired, who may not have visited SAM before. All these touchpoints have allowed us to engage with over a million people through our art in the last year.
This momentum was also carried through to the Singapore Biennale, which was titled Every Step in the Right Direction. Visitors to the international contemporary art festival were invited to rediscover Singapore by experiencing art all over the island. The Biennale reflected on the transformative potential of art and artists to rework the possibilities of the world, and inspired audiences to take steps towards thoughtful change. This spirit was best encapsulated in Amanda Heng's work Every Step Counts (2019), and her win of the Benesse Prize marked the first time a Singaporean artist has won the prestigious award.
As we entered 2020, we began exploring creative ways to continue supporting and collaborating with artists to present their works and programmes in virtual formats, to meet the new challenges brought about by the global pandemic. We went fully digital for the Singapore Biennale 2019 Symposium and closing programmes and brought the Biennale experience online through an interactive virtual gallery.
While continuing to make art accessible online as a source of inspiration, healing and connection in a time of self-isolation and uncertainty, we have also been assessing how the pandemic has changed our world, how we need to adapt to meet the needs of artists to express their perspectives about the changed world, and how we can more effectively reach out to and engage with our audiences and publics.
We are ever thankful and appreciative of our artists, visitors, partners, patrons and volunteers who have supported and worked closely with us while we adapted to our new reality. As we continue venturing beyond our museum spaces, we look forward to navigating this new chapter of SAM together with you.
Stay inspired by art,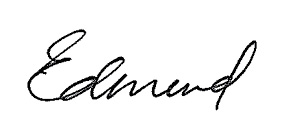 EDMUND CHENG
Chairman

EUGENE TAN
Director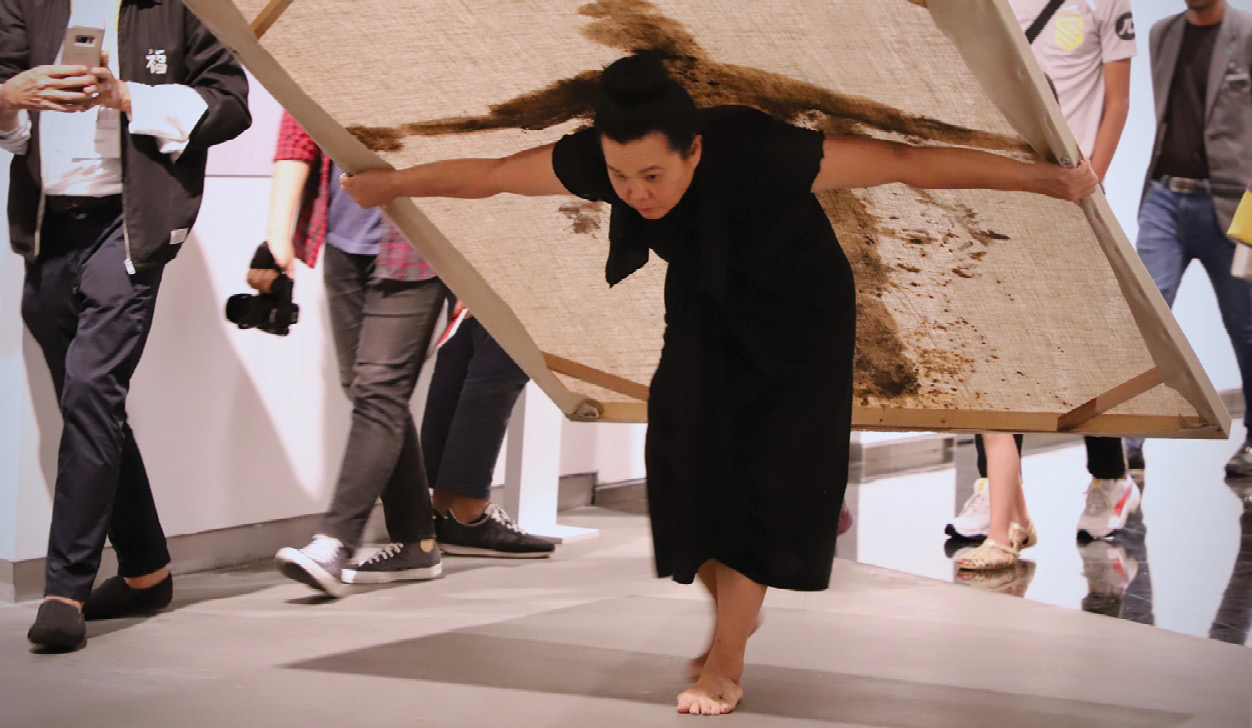 Top: Chia Chuyia, Trace and Memory, 2019, as part of The Body Politic and the Body. Bottom left: Lim Sokchanlina, Letter to the Sea, 2019, as part of Singapore Biennale 2019: Every Step in the Right Direction. Bottom Right: Gatot Indrajati, (re)construct • (re)konstruksi • (重)建, 2019. Commissioned by SAM.
EXPANDING OUR HORIZONS
SAM is built on a community of support from artists, visitors, partners, patrons and volunteers. Operating without our museum buildings makes this support even more vital to the fruition of SAM's exhibitions, presentations and programmes. We are grateful to everyone who has played a part in our achievements for the year.
7
Partners that SAM collaborated with to bring art into the community
498
Passionate and active volunteers and docents
21
Meaningful partnerships forged locally and internationally
An online audience of
>284,000
who explored our digital content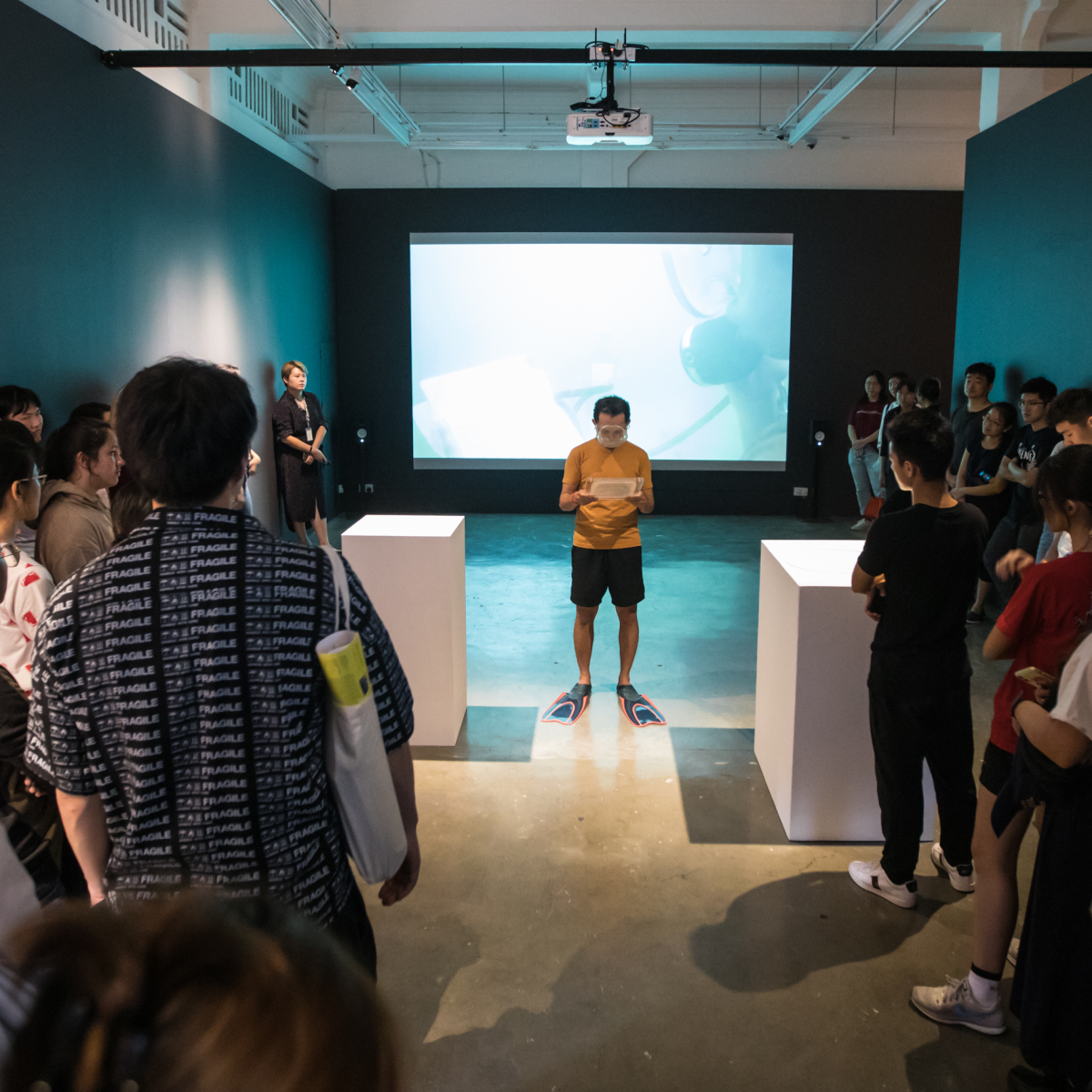 >92
Artists and art collectives from Southeast Asia and beyond who presented thought-provoking art with SAM
>1Million
Visitors who encountered our art locally and overseas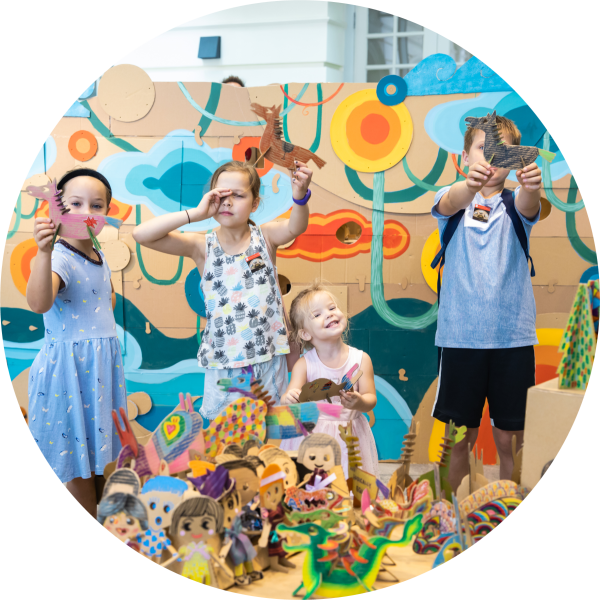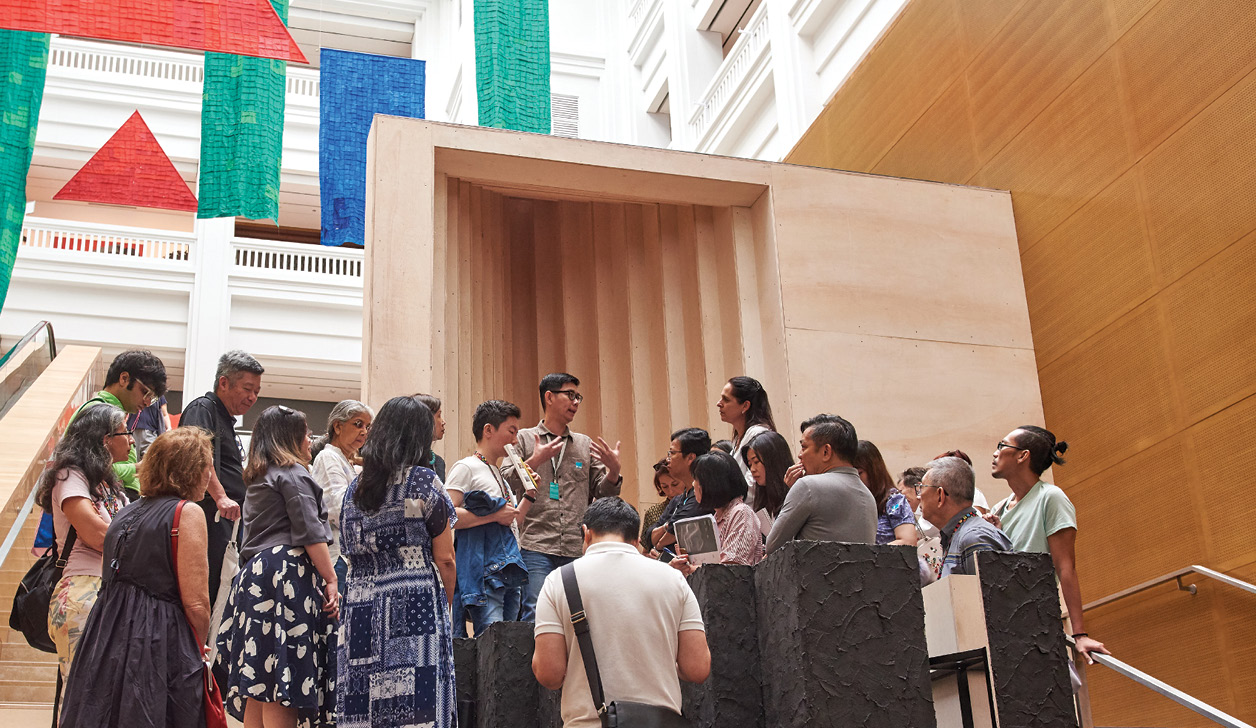 Artist Boedi Widjaja explaining his work Black–Hut, Black–Hut (2019) to a group of visitors at Singapore Biennale 2019: Every Step in the Right Direction.
EVERY STEP IN THE RIGHT DIRECTION
SINGAPORE BIENNALE 2019
SAM organised the sixth edition of the Singapore Biennale. Titled Every Step in the Right Direction, the four-month-long international contemporary art festival featured a diverse range of artworks and perspectives from Southeast Asia across the city, inviting artists and audiences alike to consider our contemporary condition and the human endeavour for change.
BIENNALE AT AT GLANCE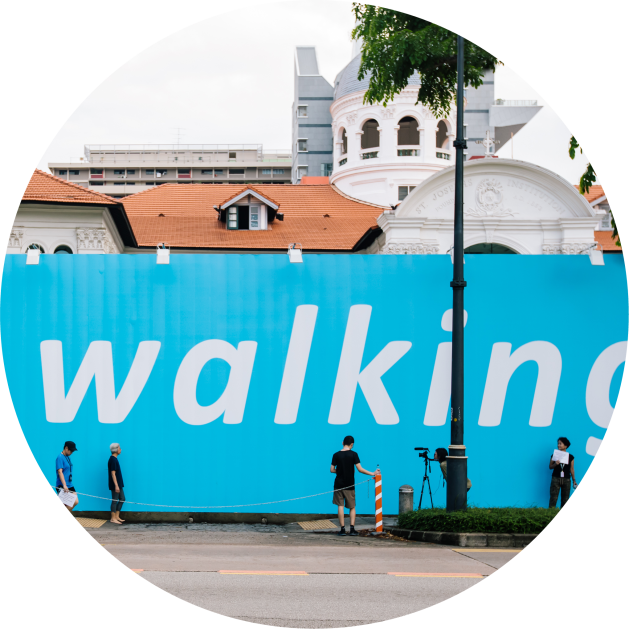 Spread across
11
venues in Singapore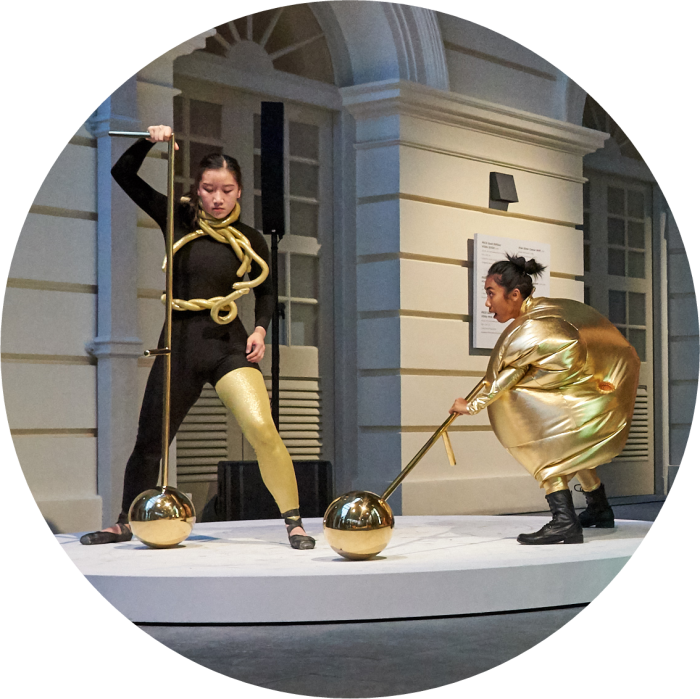 Featuring more then
150
artworks by
77
artists and art collectives from
36
countries and territories
Programme participants
An online audience of
Visitors to the exhibition venues
Featured artworks/performances, from top:
Amanda Heng, Every Step Counts, 2019; Jen Liu, Pink Slime Caesar Shift: Gold Edition (artwork activation), 2019; and Wendelien van Oldenborgh, No False Echoes, 2008, as part of Singapore Biennale 2019: Every Step in the Right Direction.
BIENNALE HIGHLIGHTS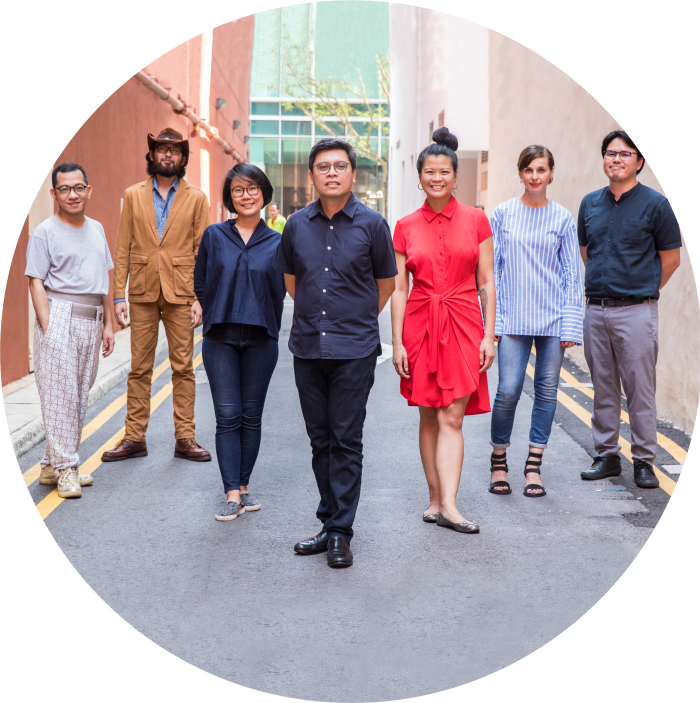 MILLENNIAL CURATORIUM
The Biennale's concerns and discourse were shaped by the composition of the curatorial team, who offered a generational perspective from those born in the eighties and early nineties, curating a biennale of their time.
The Singapore Biennale 2019 Artistic Director and curatorial team.
From left to right: Renan Laru-an, John Tung, Goh Sze Ying, Patrick Flores
(Artistic Director of SB2019), Andrea Fam, Anca Verona Mihuleţ and Vipash Purichanont.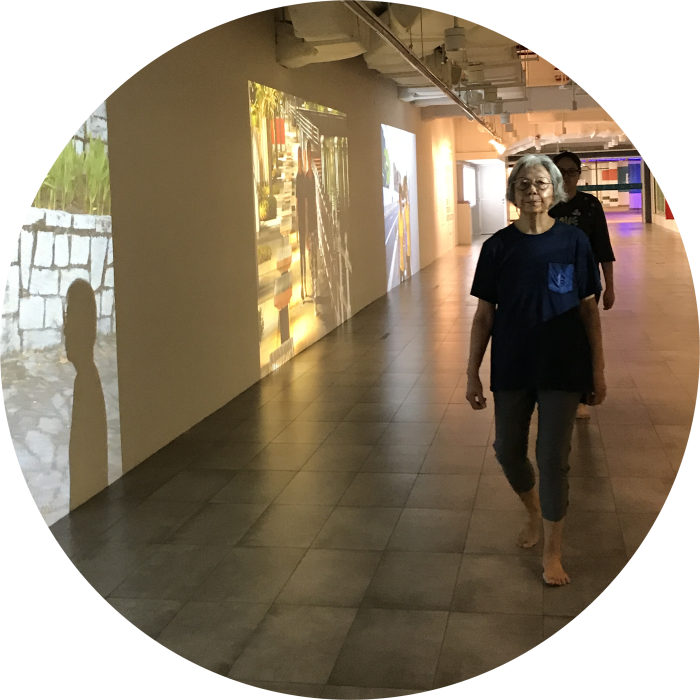 LOCAL PRIDE
Cultural Medallion holder Amanda Heng became the first Singaporean artist to win the 12th edition of the Benesse Prize in recognition of her work Every Step Counts (2019). This prize is the official award of the Singapore Biennale and is presented by Benesse Holdings, Inc. in collaboration with SAM.
Amanda Heng in a live walk performance, as part of her work Every Step Counts (2019).
GOING DIGITAL
Art lovers in Singapore and around the world were treated to an immersive experience of the Singapore Biennale through livestreams of the Symposium, closing weekend performances and an interactive 360° photo gallery of selected Biennale works.
Local actor and musician Ayden Sng performing live to a virtual audience on the closing weekend of the Biennale.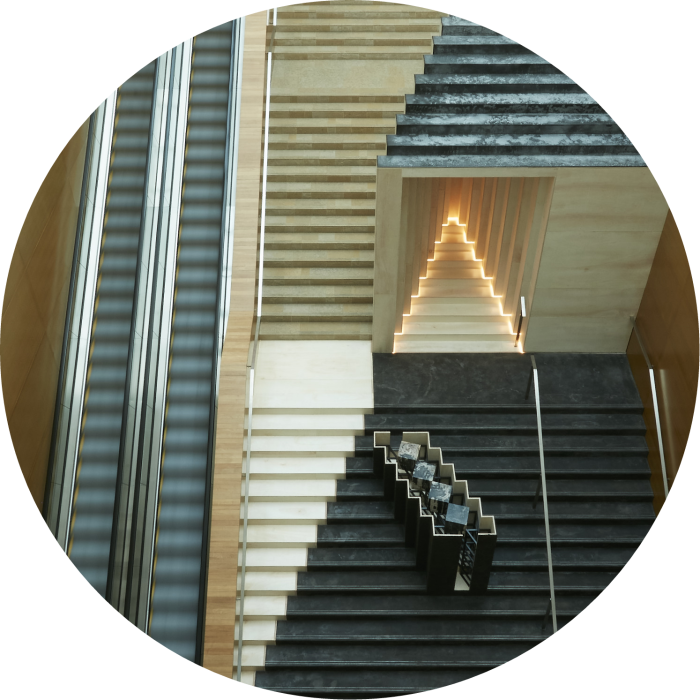 INTERNATIONAL PARTNERSHIPS
The Biennale partnered with important arts and cultural partners around the world, such as the Queensland Art Gallery | Gallery of Modern Art (QAGOMA) for a co-commissioned artwork shown at the Asia Pacific Triennial of Contemporary Art. Other partners included the Aichi Triennale 2019, Benesse Holdings, Inc. for the Benesse Prize, Goethe-Institut and the Sharjah Art Foundation.
Boedi Widjaja, Black–Hut, Black–Hut, 2019. The first iteration of this work was presented at the 9th Asia Pacific Triennial of Contemporary Art in 2018 as a co-commission with QAGOMA.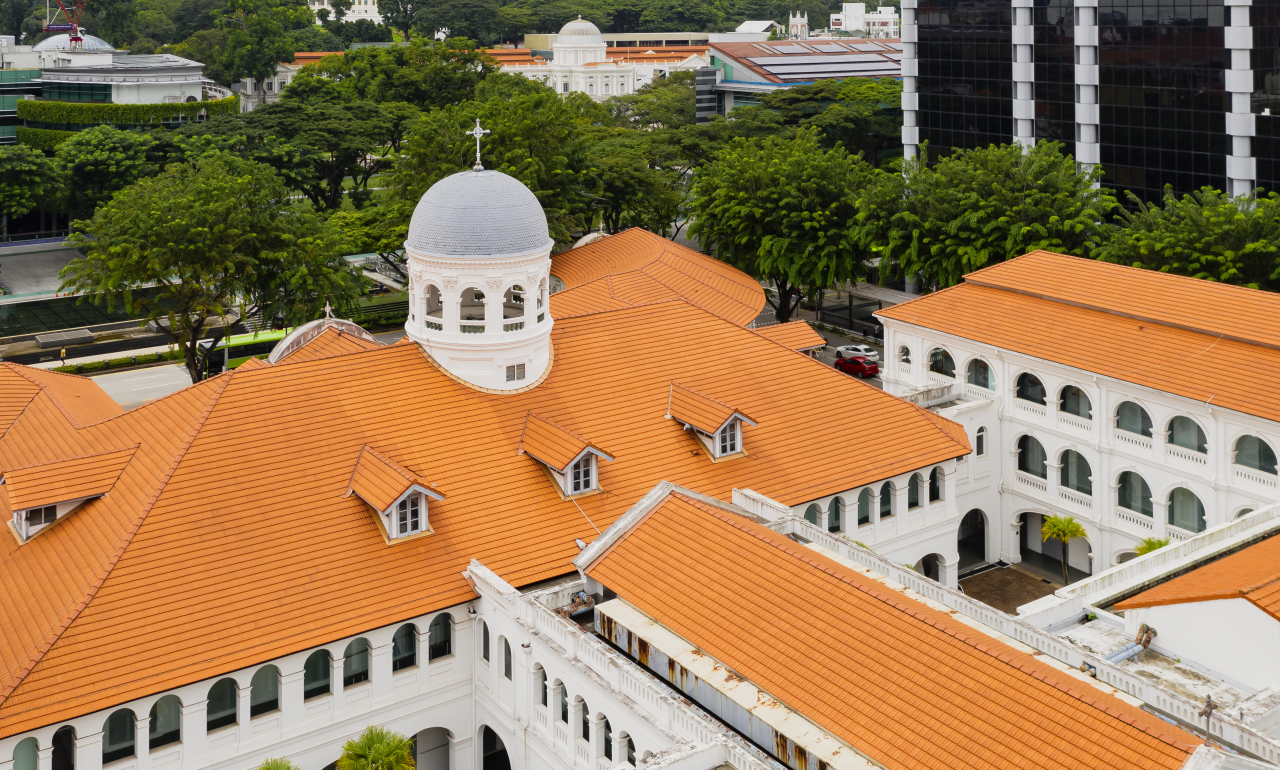 BEYOND
MUSEUM WALLS
EXHIBITIONS & EVENTS
Our two heritage museum buildings — the former St. Joseph's Institution, a gazetted National Monument, and the former Catholic High School, a conservation building — were closed to undergo their first major transformation since we opened in 1996. The new design will marry contemporary elements with the buildings' heritage features to create an architectural landmark in the heart of Singapore's arts and cultural precinct.
We hope to combine heritage, contemporary art and architecture that places SAM on the world stage and create an iconic museum space that Singaporeans and visitors will love."
"
— Edmund Cheng, Chairman, SAM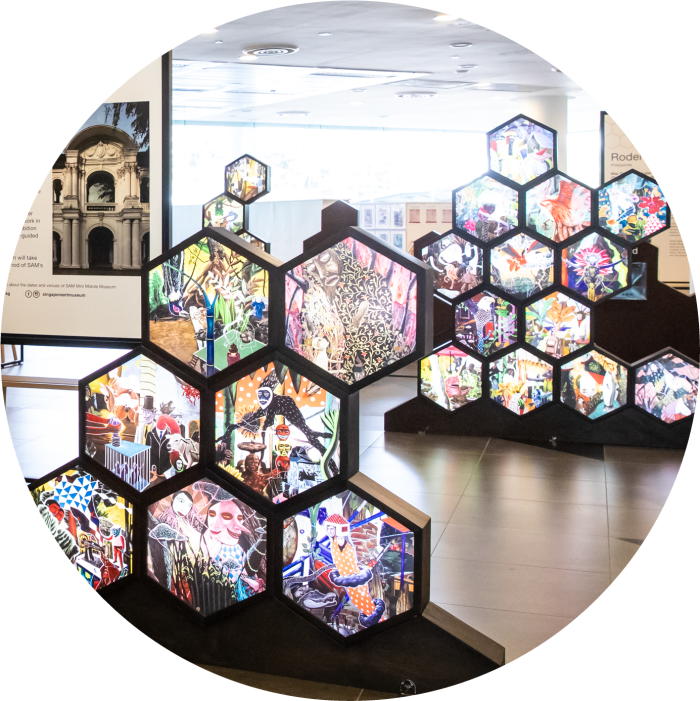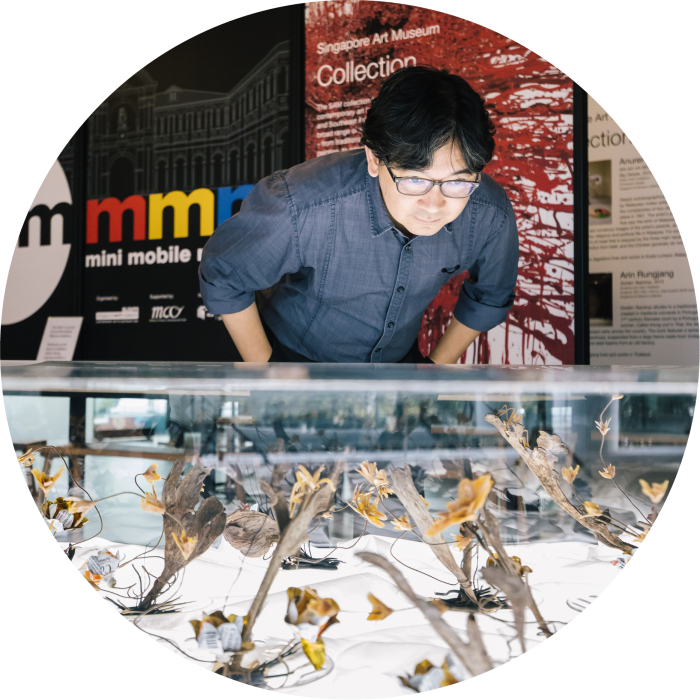 SAM MINI
MOBILE MUSEUM
SAM and the National Library Board forged a five-year-long partnership to showcase artworks by Southeast Asian artists at the regional libraries of Tampines, Woodlands and Jurong. Exhibited works are adapted from SAM's collection.
It is a tie-up which will give patrons a varied learning experience when they visit our libraries. They can learn more about Southeast Asian contemporary art not only through the exhibition, but also the programmes and our collection."
"
— Valerie Cheng, Director, Strategic Planning & Research, National Library Board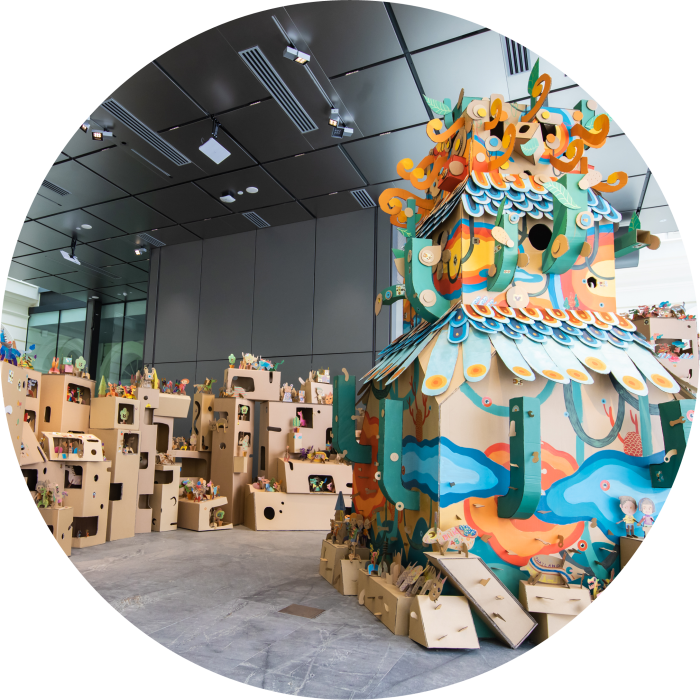 GATOT INDRAJATI: (RE)CONSTRUCT • (RE)KONSTRUKSI • (重)建
This recyclable cardboard installation by Indonesian artist Gatot Indrajati invited visitors to participate in its making, raising awareness about environmental sustainability and responsible consumerism.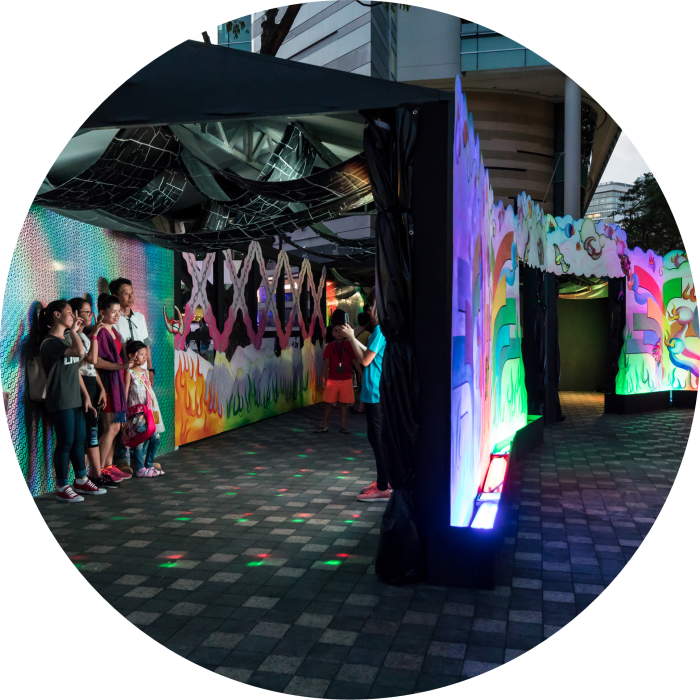 SINGAPORE NIGHT FESTIVAL: DETOUR PAVILION
Together with the winner of President's Young Talents 2018, Weixin Quek Chong, and Singaporean artists Luca Lim, Kin Chui, and Johann Yamin, SAM presented a holographic artwork at Singapore Management University's Campus Green that was seen by 84,500 visitors over two weekends.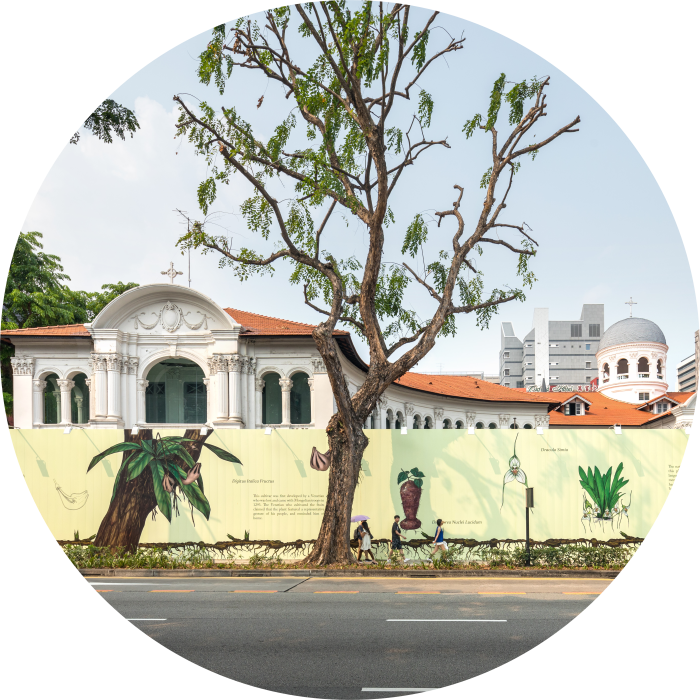 HOARDING ARTWORKS
The hoardings around our buildings came to life with specially commissioned artworks by Singaporean artists. Featured in 2019 were art collective vertical submarine and Singapore Biennale 2019 artists Amanda Heng and Pooja Nansi.
Flowery Language (2019) by vertical submarine.
THE BODY POLITIC AND THE BODY
We travelled works to Kuala Lumpur, Malaysia for our first collaborative exhibition with the ILHAM Gallery. Seven works from our collection were shown alongside works by Malaysian artists, initiating dialogue about contemporary art history in Malaysia.
Bayu Utomo Radjikin, Lang Kacang, 1991. Image courtesy of ILHAM Gallery.
GROWING OUR COLLECTION
ACQUISITION HIGHLIGHTS
The SAM Collection comprises a wide spectrum of Southeast Asian contemporary artworks, with a growing component in international contemporary art. The works examine recent and emerging practices that reflect the material and means of our times. In FY19/20, we expanded our collection with around 50 donated and acquired artworks.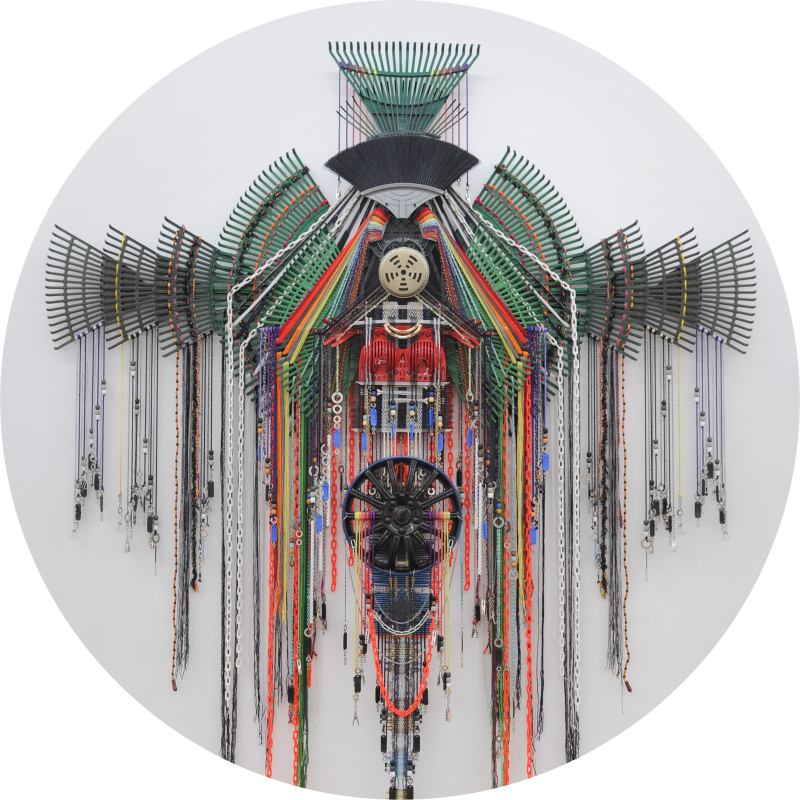 Anne Samat, Blinded No More So Immortality We Go, 2017
Rattan sticks, yarn, washers, rakes, PVC chains, kitchen and garden utensils, stationery items
Collection of Singapore Art Museum
(Image courtesy of the Artist)
Anne Samat's Blinded No More, So Immortality We Go represents a gendered pair of bodies. Characteristic of the artist's visual vocabulary, the wall-bound assemblages are constructed out of various craft-based artefacts and found objects, evoking the abstracted form of a human anatomy.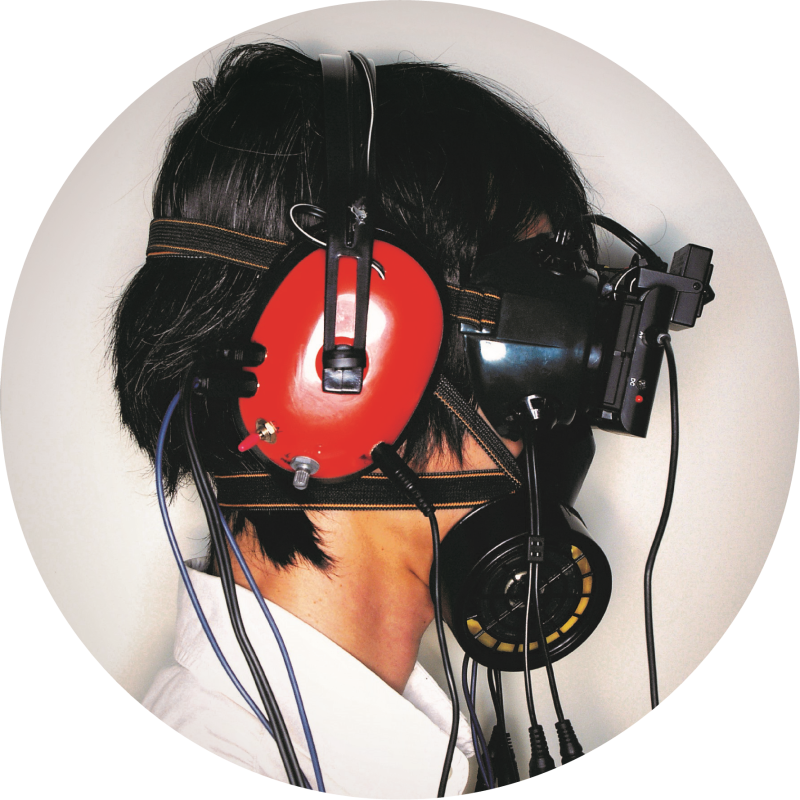 Urich Lau, Life Circuit, 2009–2016
Multimedia installation
Collection of Singapore Art Museum
(Image courtesy of the Artist)
Life Circuit by Urich Lau is a multimedia installation originally conceived as a video performance. Centred around a wearable device reconstructed from industrial safety equipment, this experimental work explores the intersections between video art, sound and performance.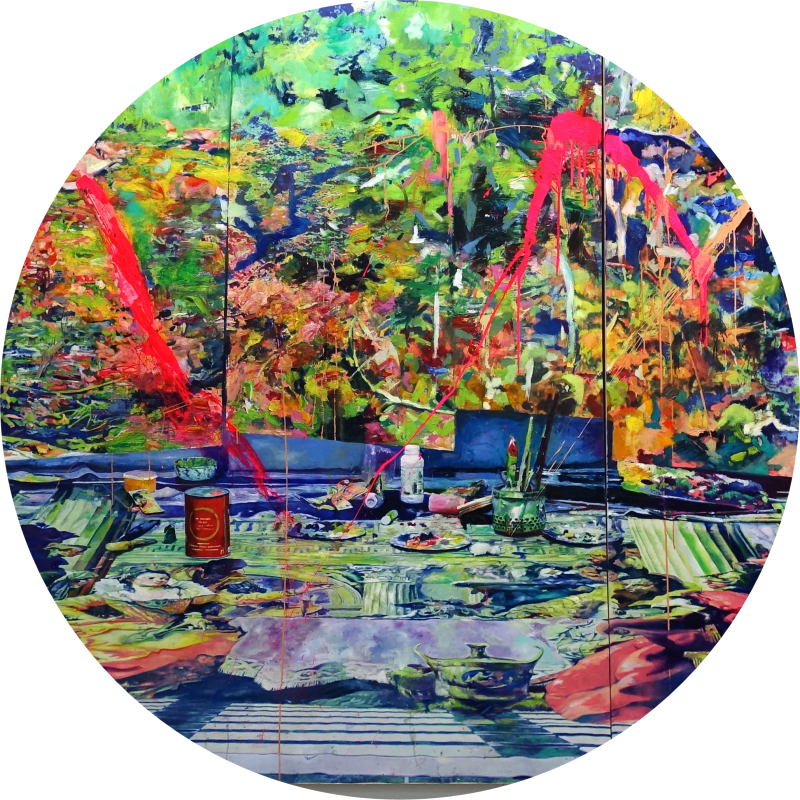 Zico Albaiquni, The Artist Studio: Ciwaruga, 2017
Oil and giclee on canvas (5 panels)
Collection of Singapore Art Museum
(Image courtesy of Yavuz Gallery)
The Artist Studio: Ciwaruga by Zico Albaiquni captures Ciwaruga, a small district in Bandung, Indonesia, in a state of destruction. Painted in Zico's characteristically vibrant and multicoloured style, the work looks at the role of the artist in addressing contemporary environmental issues in Indonesia.
Mark Justiniani, Tunnel, 2016
Mixed media installation: reflective media, LEDs, objects
Collection of Singapore Art Museum
(Image courtesy of Mizuma Gallery)
Mark Justiniani's Tunnel is part of his 'Infinity' series of works – large sculptural installations that employ mirrors to create the illusion of a never-ending space. Beyond its dramatic visual effect, the work alludes to Plato's Allegory of the Cave, which examines the limits of knowledge, fictions and reality.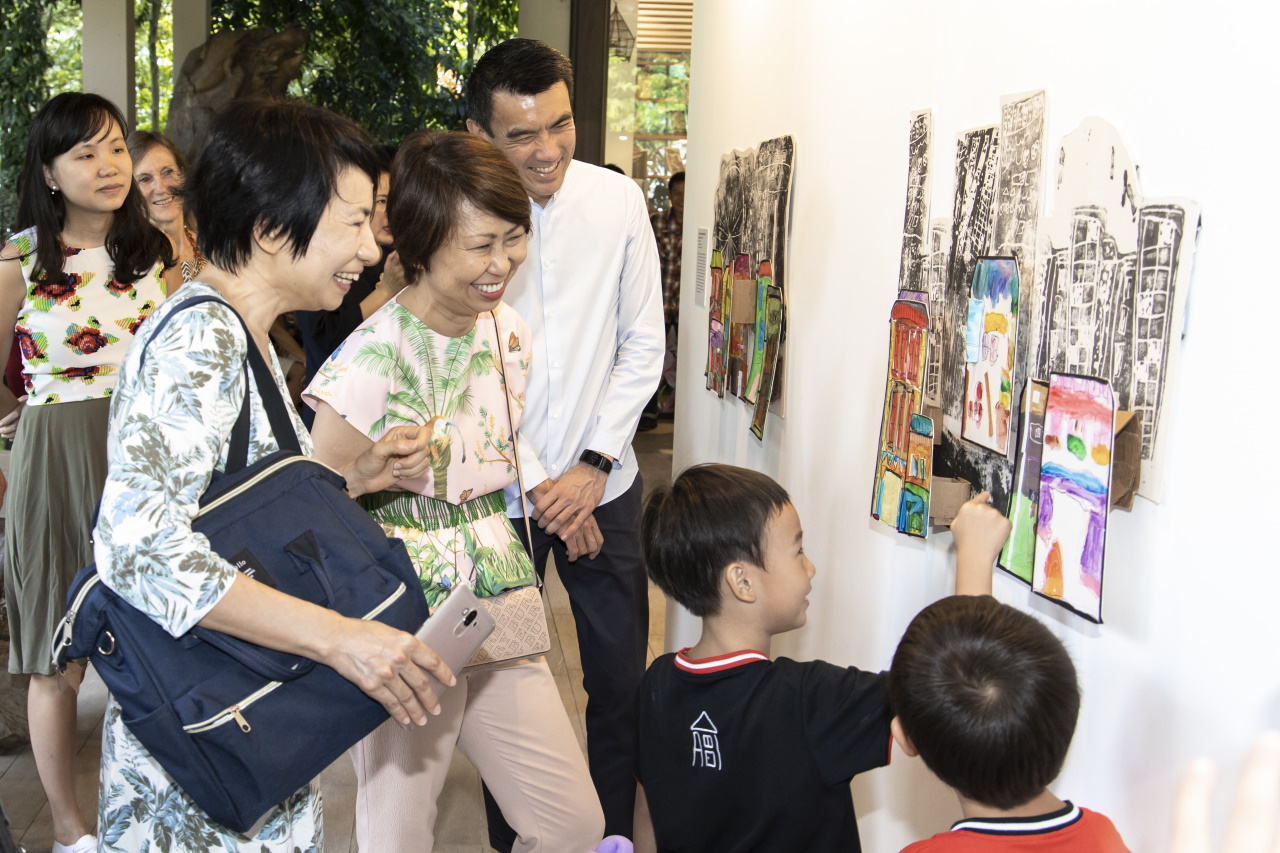 At the opening of SAM's inaugural Think! Contemporary Preschool Exhibition 2019, featuring artworks by children aged four to six.
INSPIRING CURIOUS
MINDS
PROGRAMMES & EDUCATION
Nurturing a new generation of art lovers remains core to our mission. We continue to develop educational and public programmes to facilitate learning and an appreciation of contemporary art from a young age. The successes of our flagship education programmes like Think! Contemporary and school assembly talks have paved the way for new avenues of engaging our younger audiences.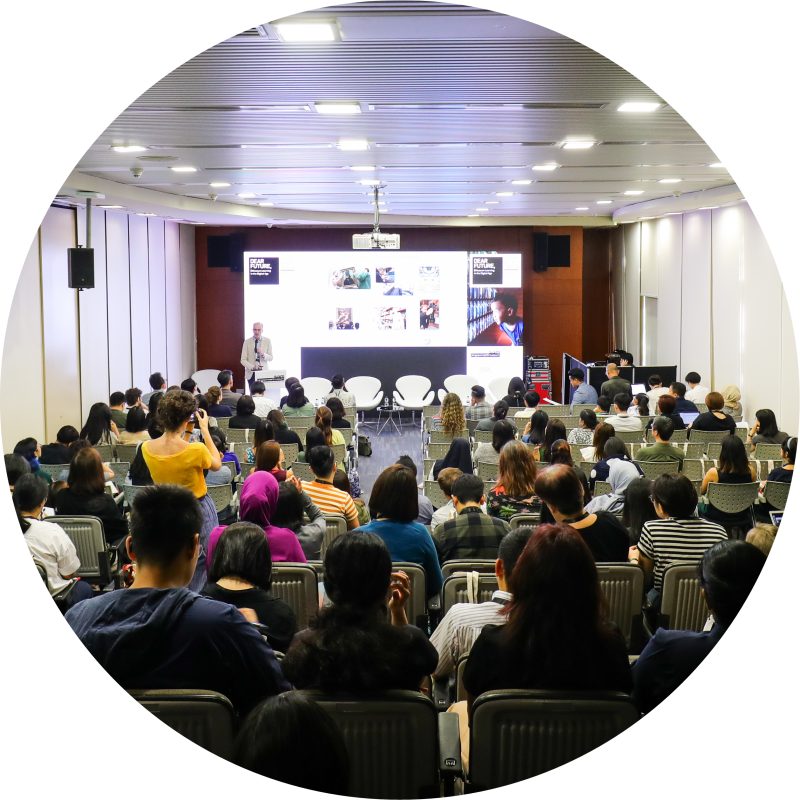 SAM EDUCATION SYMPOSIUM
As part of SAM's ongoing research on the benefits of contemporary art for future generations, we organised the inaugural edition of the Museum Education Symposium, titled DEAR FUTURE, Museum Learning in the Digital Age. The two-day event drew an attendance of 287 participants and explored topics on the future of museum learning in a digital age with museum professionals and educators from Southeast Asia and beyond.
I attended yesterday's symposium and would like to compliment the organiser for the excellent curation of speakers and content, varied use of delivery methods and overall organisation of the enlightening symposium. The student panel was particularly apt as it reminded participants of the need to view the programmes from the eyes of the young people. It is eye-opening to learn how the various overseas and local museums engage their visitors and communities with creative learning programmes."
— Caleb (Adjunct Lecturer)
"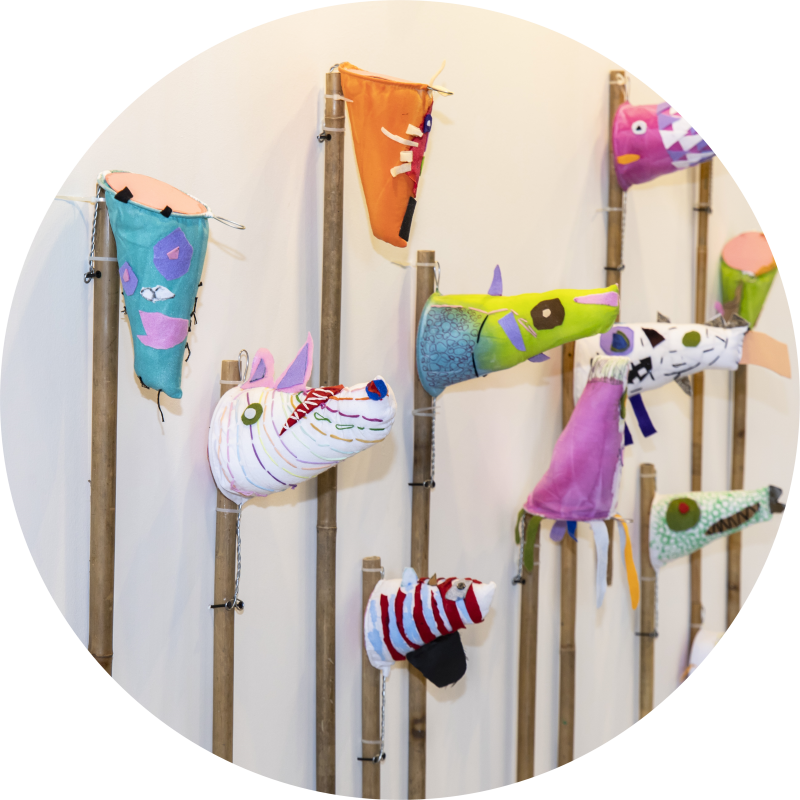 THINK! CONTEMPORARY PROGRAMME
SAM's Think! Contemporary programme and exhibition began in 2012 and has been a mainstay of our museum-based learning programme. After eight successful years, we inaugurated a preschool edition for children aged four to six.
The first collaboration of its kind in Singapore between an art museum and preschools that integrates museum learning into the curricula, the programme culminated in an exhibition of artworks by preschool children at the Singapore Botanic Gardens Heritage Festival.
With contemporary art, I think there is a misconception that it is very complicated and difficult to understand. That's not the case at all! The programme is a great platform for the facilitation of social-emotional skills acquisition at a young age through collaborative artworks and critical thinking."
— Dee Chia, Head, Education & Programmes, SAM
"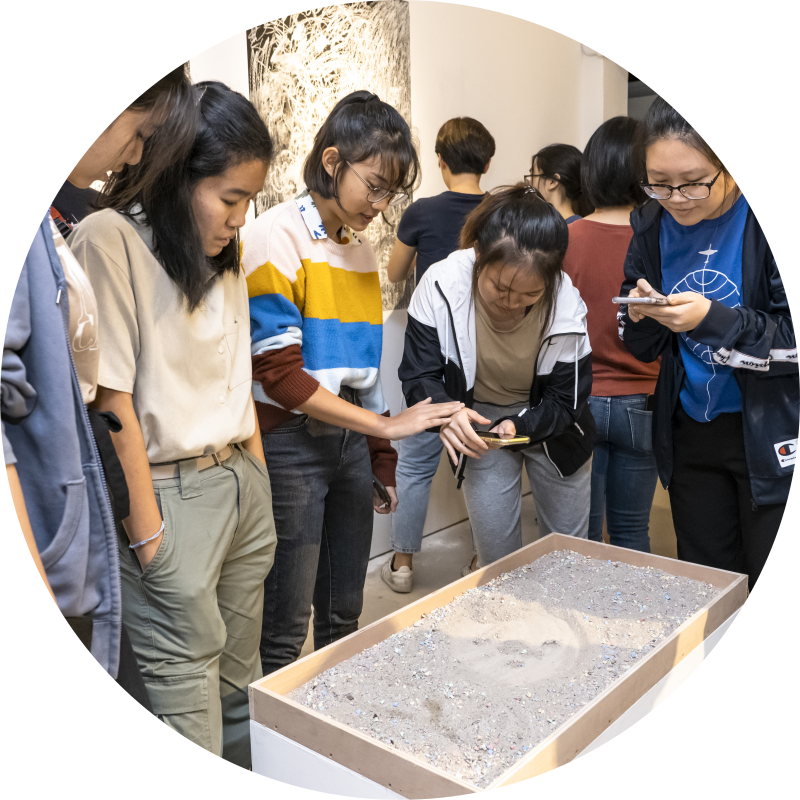 BABY TROPICAL LAB EXHIBITION
Held in conjunction with Singapore Biennale 2019 and jointly organised with the Ministry of Education and LASALLE College of the Arts, this exhibition was the culmination of the learnings from students who participated in talks and workshops by Singapore Biennale artists and curators, as well as in-situ art-making facilitated by Milenko Prvacki.
Image courtesy of LASALLE College of the Arts and Ministry of Education.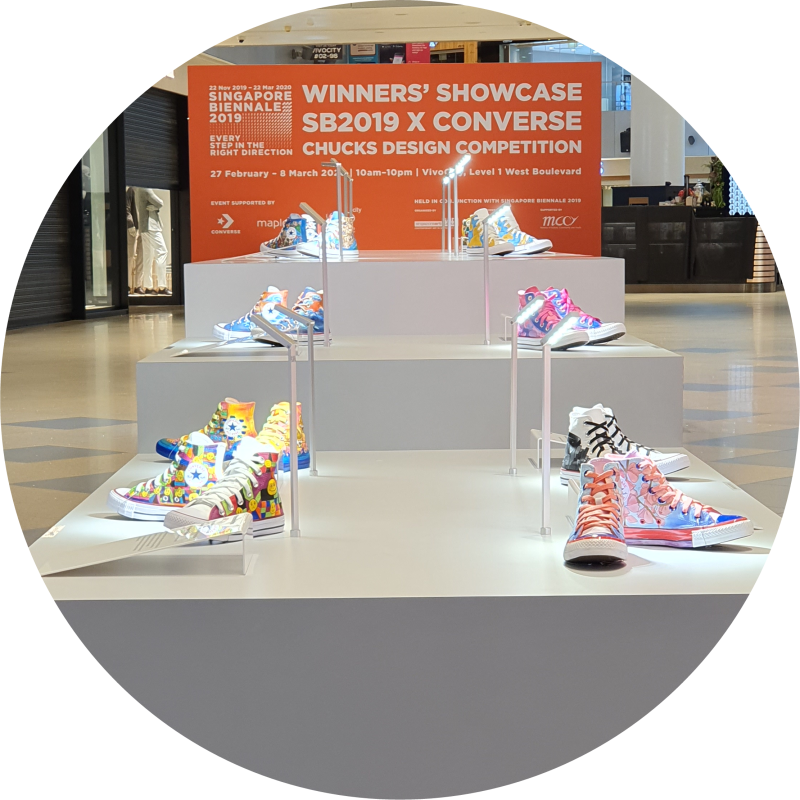 SB2019 X CONVERSE CHUCKS DESIGN COMPETITION
This three-month-long competition called for participants to unleash their creativity and design their own interpretations of the works or title of Singapore Biennale 2019 on a pair of Converse sneakers. 360 entries were received from participants aged nine to 23, of which 18 winning designs were featured in a public showcase at VivoCity Singapore.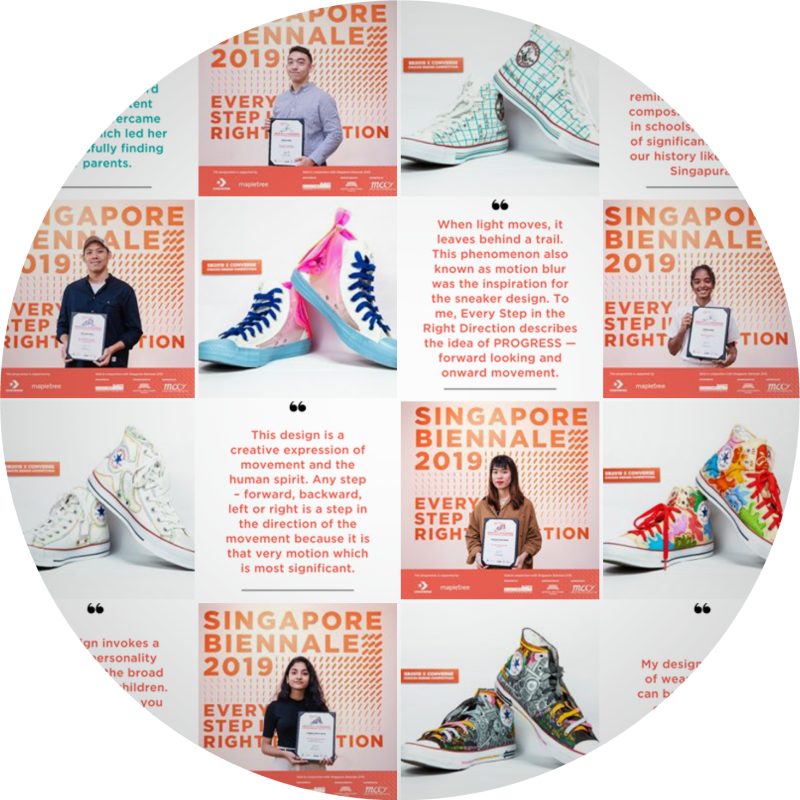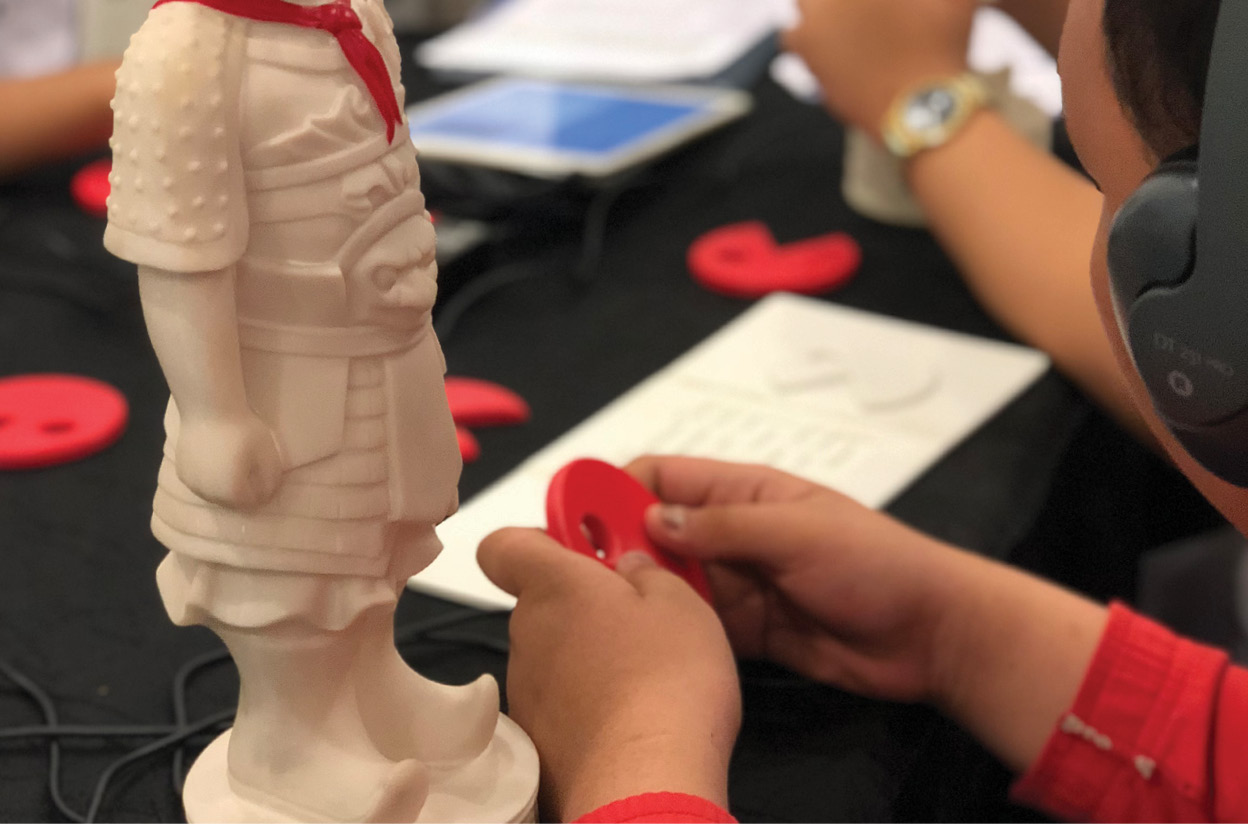 A miniature replica adapted by Justin Lee from his artwork East & West (2009) for the SAM Touch Collection.
CONNECTING WITH
THE COMMUNITY
COMMUNITY & ACCESS
At SAM, we believe that art can be a meaningful way to engage with contemporary issues of the present. Through diverse programming, we hope to make art more accessible to audiences of all backgrounds, ages, needs and abilities, with programmes such as the SAM Touch Collection and the Yellow Ribbon Community Art & Poetry Exhibition.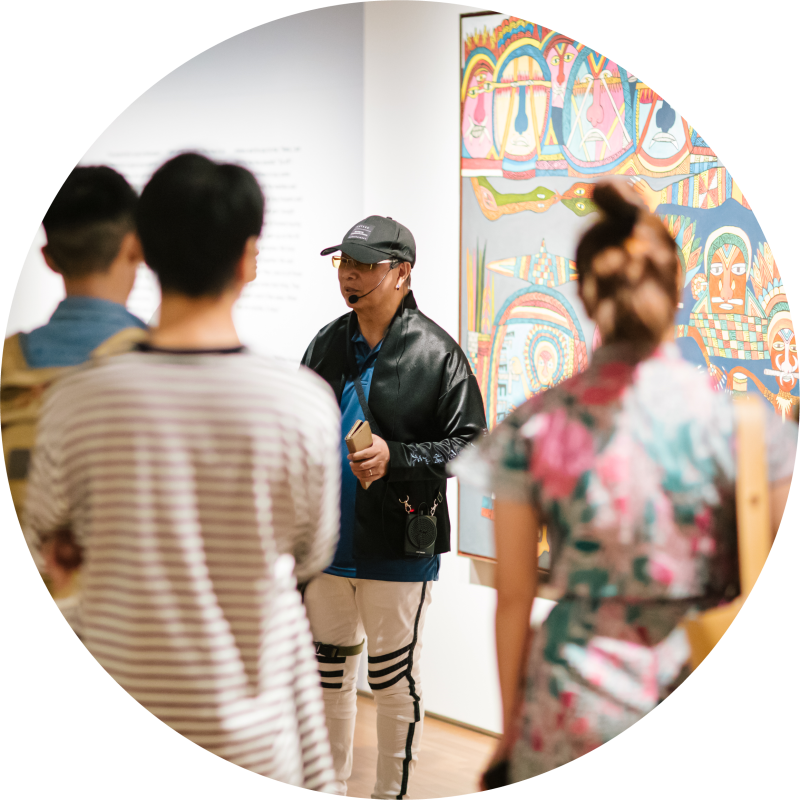 KOPI, TEH AND CONTEMPORARY ART
SAM partnered with RSVP Singapore The Organisation of Senior Volunteers to introduce contemporary art to seniors through interactive, multilingual art tours. These free tours are led by senior volunteer guides trained by SAM. Since its inception in FY19/20, 267 participants have attended a total of 12 tours guided by 25 regular senior volunteer guides.
Mr Kwan, senior volunteer guide from RSVP Singapore The Organisation of Senior Volunteers, sharing about the work Marbles (1988) by Mathias Kauage to a group of visitors at Singapore Biennale 2019: Every Step in the Right Direction.
When I see a beautiful artwork, I want to find out more about the story behind it. I also love storytelling; this is linked to my personal interest in folktales. Leading a tour encourages me to learn more about the art and share my knowledge with others."
— Connie Tham, Senior Volunteer Guide, RSVP Singapore The Organisation of Senior Volunteers
"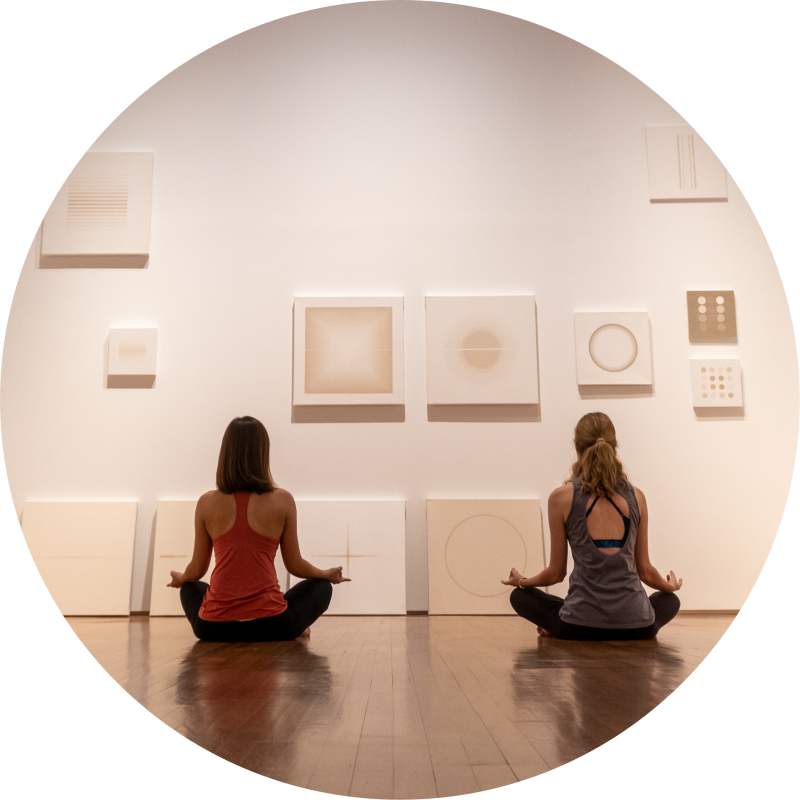 ART & WELLNESS PROGRAMMES
We expanded our suite of public programmes into the realm of art and wellness, offering a range of lifestyle-oriented programmes such as meditation, yoga, creative journaling and gong bath, all of which were mediated by artworks and held within gallery spaces. These programmes invited participants to slow down and immerse themselves in the artworks, enabling them to discover art's potential for contemplation, reflection and inspiration.
Visitors meditating in front of the work Time: Dust (2017–2019) by Min Thein Sung at Singapore Biennale 2019: Every Step in the Right Direction.