support SAM
SAM is committed to sharing the transformative power of contemporary art with the widest possible audiences. Your generosity will go a long way in helping SAM create more meaningful exhibitions, events and programmes to spark a lifelong interest in art.
donate to SAM and enjoy a portrait session with Russel Wong
The Singapore Art Museum will be undergoing redevelopment of its buildings to create an iconic museum space for contemporary art in Singapore. Part of this major undertaking is the conservation and preservation of the buildings' heritage architecture, thoughtfully blending the old and the new.
We invite you to contribute to SAM's capital fundraising campaign and enjoy an exclusive portrait session* with celebrity photographer Russel Wong within SAM's beautiful buildings.
Donations begin at $10,000 and all proceeds go towards the redevelopment efforts to create public spaces and new art spaces where everyone can enjoy, experience and engage with contemporary art.
Your Contribution:

$10,000 and Above

Availability (Limited Slots):

January to March 2019
Tax residents of Singapore will enjoy tax deduction of 250% on the amount donated. In addition, the Cultural Matching Fund will match cash donations dollar for dollar, effectively doubling the value of your donation.
Terms and conditions apply. Please contact [email protected] or 66979 740 for more information or to reserve your session today.
Learn more about other ways to donate below.
our supporters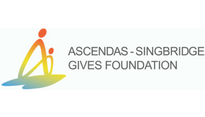 Ascendas-Singbridge Gives Foundation
Ascendas-Singbridge Gives Foundation seeks to create and inspire communities through our philanthropic efforts. We are committed to helping people and organisations, nurture talents, enhance educational endeavours and improve living conditions, thus enabling the communities where we work and play to flourish.

We believe in and advocate the spirit of caring and sharing with our communities, by giving them the space to grow and excel through programmes under our three pillars: Arts, Community and the Environment.

We are proud to be a supporting sponsor of SAM's President's Young Talent 2018, a mentoring and commissioning exhibition, and Touch Collection—Singapore Edition, a new community outreach programme.