support SAM
SAM is committed to sharing the transformative power of contemporary art with the widest possible audiences. Your generosity will go a long way in helping SAM create more meaningful exhibitions, events and programmes to spark a lifelong interest in art.
our supporters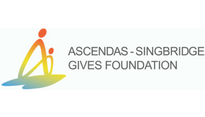 Ascendas-Singbridge Gives Foundation
Ascendas-Singbridge Gives Foundation seeks to create and inspire communities through our philanthropic efforts. We are committed to helping people and organisations, nurture talents, enhance educational endeavours and improve living conditions, thus enabling the communities where we work and play to flourish.

We believe in and advocate the spirit of caring and sharing with our communities, by giving them the space to grow and excel through programmes under our three pillars: Arts, Community and the Environment.

We are proud to be a supporting sponsor of SAM's President's Young Talent 2018, a mentoring and commissioning exhibition, and Touch Collection—Singapore Edition, a new community outreach programme.