Art That Can Be Touched: Learning to Play with Eyes Closed
While many artworks in museums cannot be physically handled, the SAM Touch Collection invites audiences to do just so. It consists of adaptations of existing artworks to make contemporary art accessible for all. In this three-part series, we go behind the scenes with artists to learn how they reimagined new ways of interacting with their artworks and what the experience taught them.
---

Encased in a grey box topped with ultramarine buttons and what looks like an eye, it resembles a retro Nintendo Game Boy console.
But this is no ordinary play toy.
With a press of a button, the portable audio device plays recorded clips from everyday life in Singapore through its in-built speaker. They range from a moving MRT train to someone ordering a drink in a kopitiam, offering an audio journey through the city's many soundscapes.
Titled Looper Trouper, the artwork by artist anGie seah came about when she was asked to adapt her artwork Conducting Memories for SAM's Touch Collection. The programme works with artists to create new versions of their artworks primarily for the visually impaired community. While anGie's original artwork already allowed visitors to play sounds recorded in Singapore over the decades, it came as a school assembly rostrum that was installed in SAM for the 2013 Singapore Biennale. Her challenge was to translate this into an artwork those with low vision could experience on their own and even be brought out of the museum.
"I was definitely not going to make a mini rostrum. That's like so easy, right? But how can I contain sound inside somewhere," anGie recalls. "I was telling my sound specialist: 'Imagine a pocket that you can put sound inside'. That's where we brainstormed and came out with this idea of a calculator-like player."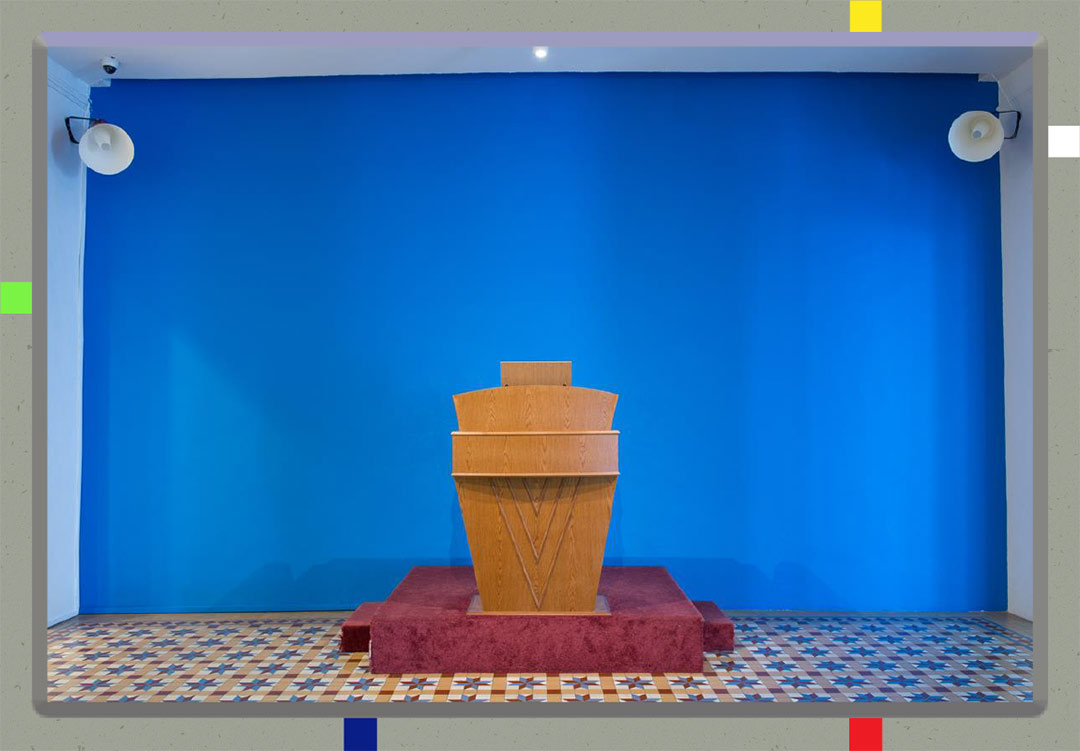 The original Conducting Memories (2013) came as a school assembly rostrum installed in SAM, in reference to the site's history as the former St. Joseph's Institution.
While Looper Trouper functions very much like the original artwork, it is designed with the visually impaired in mind. Each of its 20 buttons is inscribed with raised dots that are actually characters in Braille, a tactile writing system used by the community. The 3D-printed device is also accompanied by an instruction manual in Braille as the device not only just plays sounds. As its name suggests, participants can add music loops such as a drum beat or a cymbal by pressing different button sequences. Building upon Conducting Memories, which allowed participants to assemble the different recordings into a soundscape, anGie wanted Looper Trouper to give its users an opportunity to compose their very own Singapore tune too.
"It is a totally different piece from the work I created for the Singapore Biennale," says the artist. "For the visually impaired community, it really is all about hearing and sensing. So why not give them a bit of fun and play element in their lives?"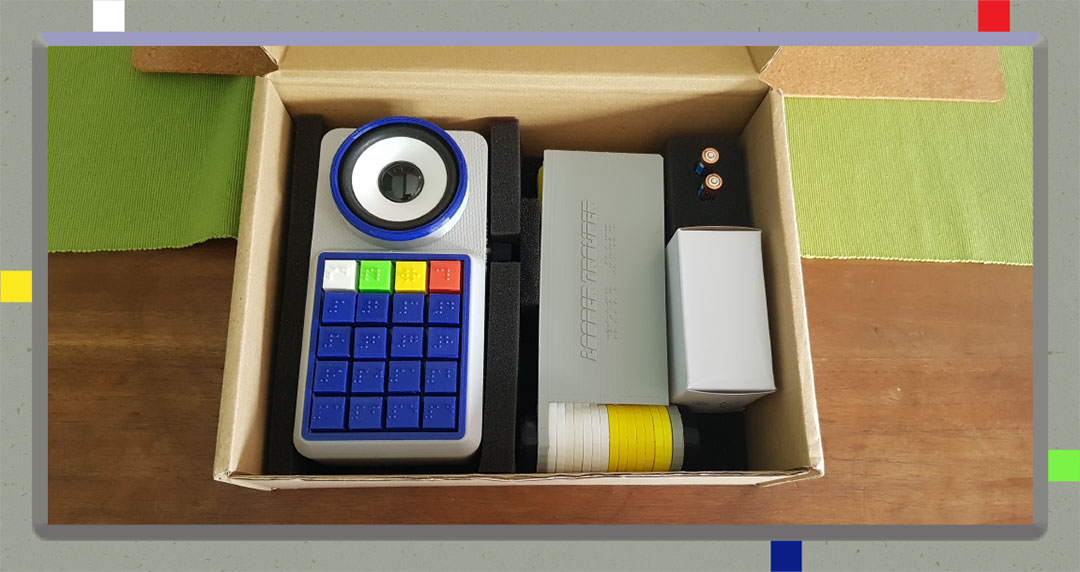 Looper Trouper (2020) is an interactive audio player (left) that comes with an instruction manual in Braille (right). Image courtesy of anGie seah.
As anGie did not know Braille, she enlisted the help of a visually impaired teacher from Ahmad Ibrahim Secondary School. Penny Chong not only helped translate the buttons and instruction manuals into Braille, she also gave feedback on early prototypes. When the player was ready, Penny also arranged for some of her students to try it out.
"All of them were very excited and they were playing it. I felt rather touched to see them able to 'read' the buttons by touching it. I loved how the player was able to connect with them," anGie says.
Such interactivity is just one example of how artworks in the SAM Touch Collection engages the visually impaired. Since it was started in 2018, invited artists have come up with various approaches such as recreating an installation into a sculpture and turning a painting into a tactile experience. Sharon Chen, Senior Manager of SAM's Access team, says it is up to each artist to interpret what accessibility means for them. Selected artworks must be from the National Collection and relate to the historical, cultural and social aspects of Singapore. The artists are then briefed on practical considerations such as offering some form of interactivity and durability as they will be physically handled. The artworks should also be portable because the collection often travels as part of SAM's outreach programmes.
"Although we developed the collection with the visually impaired in mind, there are plans to roll it out to the elderly in nursing homes and children in special schools who can't come down to the museum," says Sharon.
"In this way, we are also developing our artists' capabilities in being more aware of the community and challenging them to relook at how they can develop their art forms in ways that will reach out to more audiences."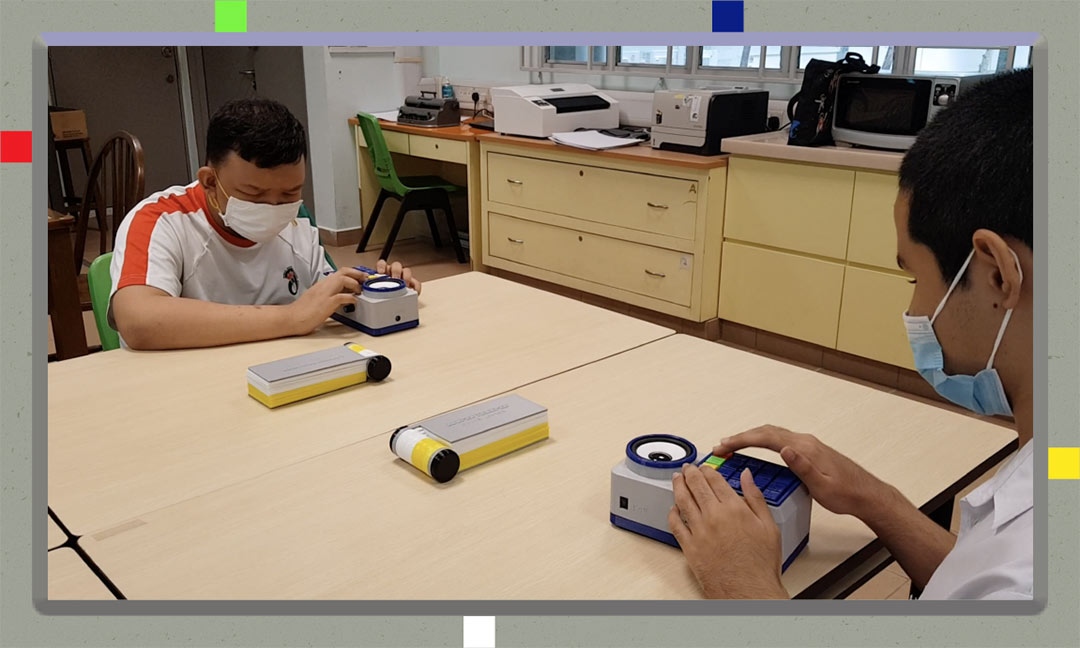 Two students from Ahmad Ibrahim Secondary School trying out Looper Trouper. Image courtesy of anGie seah.
anGie
, who often works with different communities in her art practice such as seniors and children with special needs, says adapting an artwork for the SAM Touch Collection was unlike her typical workshops. She had to think like a product designer and become sensitive of how the visually impaired experience the world.
"I tried to imagine myself as visually impaired by closing my eyes and trying to operate the player. It has to be easy to use," says anGie.
"I developed empathy by making this work, not just as an artist, but as a person too."
Ready to become a Looper Trouper? Experience the SAM Touch Collection by making a request. The adapted artworks are free for access and accompanied by supplementary resources and materials to enhance interaction and understanding of contemporary art.