Darel Seow and Lee Xin Li: A Natural Pairing
The history of any place is made up of different stories and perspectives. For SAM's hoarding commission series, illustrators Darel Seow and Lee Xin Li have combined their respective interests in Singapore's natural and architectural heritage to bring to life the many histories of the museum's neighbourhood. They peel back the layers of their mural to reveal how fact and fiction come together in An Unnatural History.
---

Is this the first time both of you are working together? How did the collaboration come about?

Darel: When SAM curator Andrea Fam wanted me to work with another illustrator on the museum's hoarding, I immediately thought of Xin Li since both of us were then sharing an office down the road from SAM at the National Design Centre.

Xin Li: I had participated in an exhibition Darel organised previously, but this is the first time our works share the same page. Having visited museums overseas, such as the American Museum of Natural History and the British Museum, where they present narratives of different civilisations, we had this idea of doing the same for our mural. We would put historical details from the neighbourhood around SAM but also purposefully add "errors" and different layers of narratives about a place. We wanted people to be both curious and critical about what they were taking in. The work also showcases our different interests. Darel is into the natural world including animals and plants, while I look at histories and architecture.
---
We would put historical details from the neighbourhood around SAM but also purposefully add "errors" and different layers of narratives about a place. We wanted people to be both curious and critical about what they were taking in.
---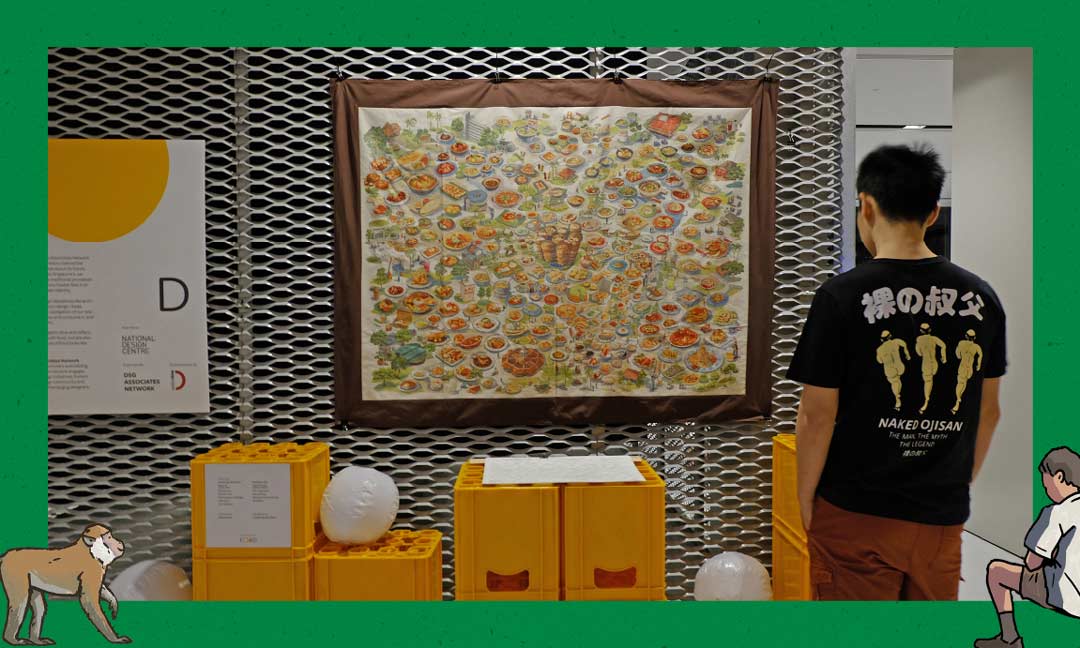 Xin Li's illustrated guide to food from Singapore, "來! Makan Makan!", at the Future of Craft: Food (2019) exhibition organised by Darel. Image courtesy of Lee Xin Li.
What was it like working together?

Darel: It started with a very quick sketch where we decided zones which each of us could handle. I've never drawn anything so large before so I deferred to Xin Li with his mural mastery on how to split up the files.
Xin Li: It took quite a while to figure out the process. Initially, we thought one of us would draw something and the other would respond – kind of like a game of ping pong. But Darel is a bit more hesitant to start. He likes to explore a lot of ideas even up to production, while I usually settle on a certain concept and work towards the deadline. So I started the groundwork by drawing the environment and leaving space where we agreed on, and he eventually responded.
Darel: In theory, the back and forth sounds very fun. But the moment we started work was also during the circuit breaker period. So, the collaboration became different from what we expected. We had to work apart instead of sitting side-by-side in the same room.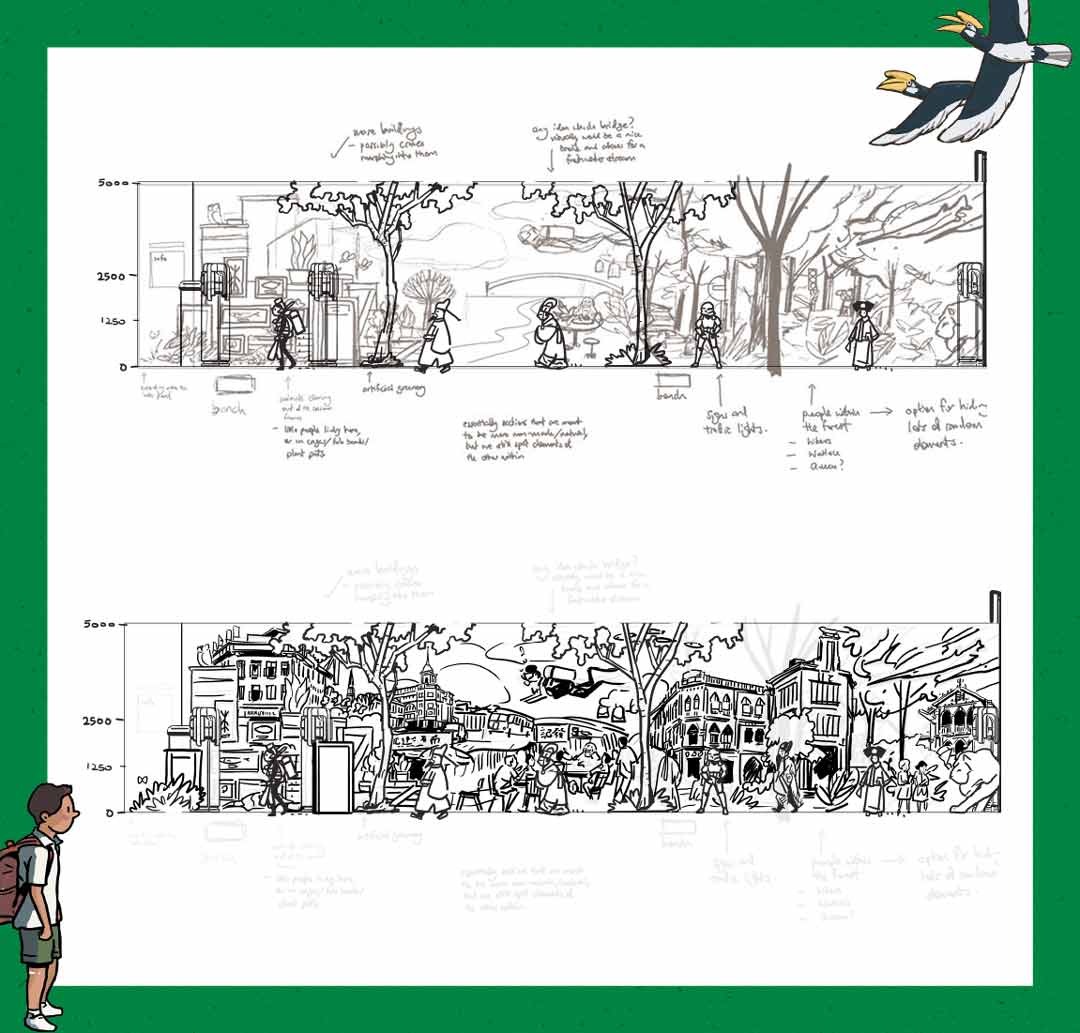 Details of work-in-progress sketches for the mural. Above is Darel's response to an outline by Xin Li, while the sketch below shows what the latter added in. Images courtesy of Lee Xin Li and Darel Seow
An Unnatural History is packed with many historical landmarks and species of animals and plants (168 to be exact!). What was the most challenging to illustrate?

Darel: If I had to pick one, it was Ah Meng. I left it all the way to the end because of how iconic she was. Having the weight of Ah Meng's legacy was tricky and I tried to make her look less generic. I'll say the trick is in the eyes. She has a very peaceful look and I tried to replicate some of that.
Xin Li: Rather than the details, the challenge was deciding when to stop. I kept finding things that were interesting around the site. There are still things about Queen Street that I wish I could have added in, such as the Singapore-Johor Taxi Service.
Darel: I agree with Xin Li. One super tricky thing was drawing all the birds in the sky. I would have loved to add another 50 species or more, but every additional one was a chance to make a new mistake! So this meant lots of research to ensure that I accurately represented both their hallmark characteristics and behaviour.
How did the title of the work 'An Unnatural History' come about?
Darel: I have always been intrigued by this term. While we all know Singapore's textbook history of going from Third Word to First and there has been interest in alternative histories with the bicentennial commemoration in 2019, I always felt the "natural" side has been neglected. The title invites people to search for things that might seem out of place and come up with their own interpretation of history.
Xin Li: The work has a collage of elements. Some are interpretations and some are playful elements. So, what seems "natural" at first turns out to be something not quite right.
It also shows the limitation of how we look at historical documents. There was a controversy not long ago about the accuracy of colourising World War I films and I experienced something similar when trying to draw these historical scenes. There is a certain level of interpretation and guesswork because of a lack of references. For example, in the coffeeshop scene, some of the wording might not be accurate or the cutlery used may not belong to that era.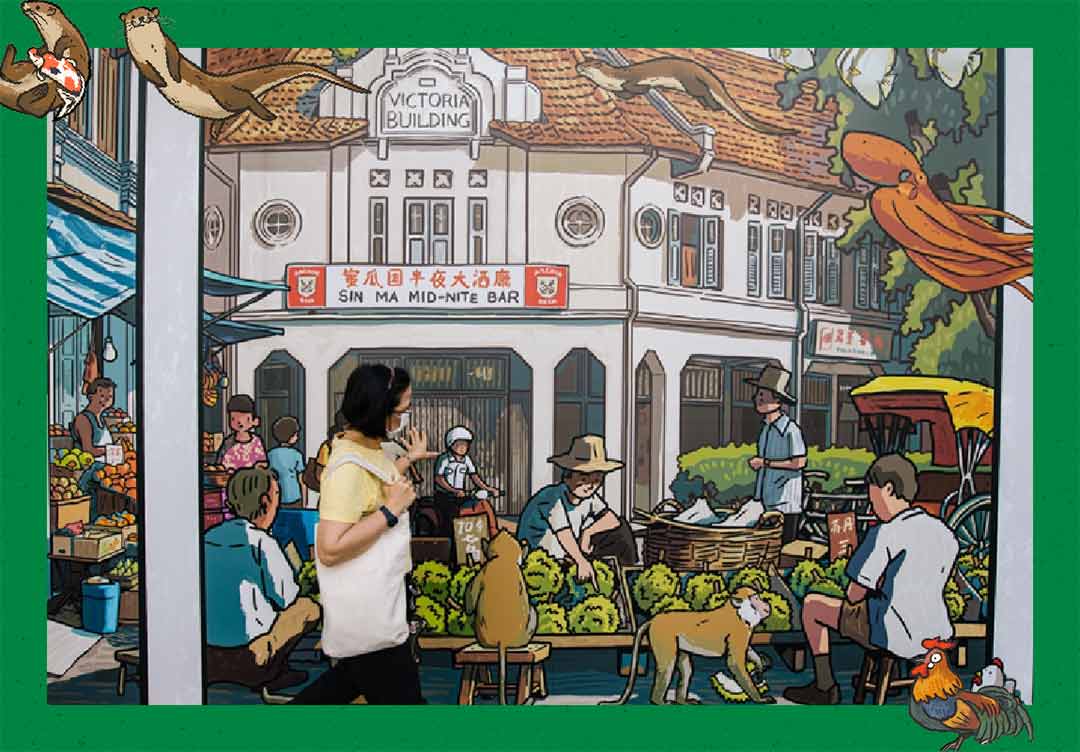 Look closer at An Unnatural History and spot forgotten buildings and histories around SAM's neighbourhood.
Besides the mural, there are also upcoming programmes and a website where audiences can share their own "unnatural histories". Can you tell us more?
Darel: I've invited artist Robert Zhao who presents "unnatural" works about natural history. The other is Dr Yong Ding Li, who works in conservation. I enjoy his nuanced point of view and he would talk about how to balance conservation and development.
By getting audiences to share their own histories, we are hoping they will pay more attention to the things they walk past every day and what is around them.
Xin Li: I've invited Dr Lai Chee Kien to talk about architecture history and the different layers that exist in a site. Dr Yeo Kang Shua, who is into building conservation and its science, will look at the different lives of a building and how we decide on things like "authenticity" and what is worth keeping.

An Unnatural History looks at built heritage and nature, which are both impacted by Singapore's constant urban development. How do you see it contributing to this conversation?
Darel: Over the course of this project, I spoke to various experts and one mentioned how this work showcases so many species of birds. For the average Singaporean, I hope this illustration can help them realise how interesting these are and encourage them to find out more. I've included some species that can no longer be found in Singapore or some which are severely threatened today. The work being in such a public location in an easy-to-understand form can hopefully get people talking and engaging in discussions about nature in Singapore.
Xin Li: Illustration is a very accessible medium. Most of us grew up reading some form of comics and cartoons that present complex subject matters in a more relatable form. I deal with heritage and architecture which could be very dry for some, so I hope the artwork helps showcase some of the histories behind Queen Street and its surroundings.
Take a closer look at Darel and Xin Li's work on the hoarding around SAM's building along Queen Street until 6 June 2021. You can also explore the work online, submit your creations and learn about their upcoming talks at the 'An Unnatural History' website. For more information, visit https://www.singaporeartmuseum.sg/art-events/exhibitions/an-unnatural-history.