Art Must Go On with Stephanie Jane Burt
Draped fabric, tied ribbons and suspended steel surround two metal frames to form 'Dressing a Window' by Stephanie Jane Burt. It is the artist's sculptural ode to 'Time Passes', a chapter from Virginia Woolf's novel 'To the Lighthouse'. It is also the inspiration for SAM's ongoing exhibition of the same name.
Stephanie shares how she created the work by repurposing materials from her older pieces, in a spirit similar to the care and attention Woolf paid to the neglected items in an old holiday house. She also reflects on the experience of living and working through the COVID-19 pandemic, which has made her more aware of the labour that goes into maintaining her practice and self.
---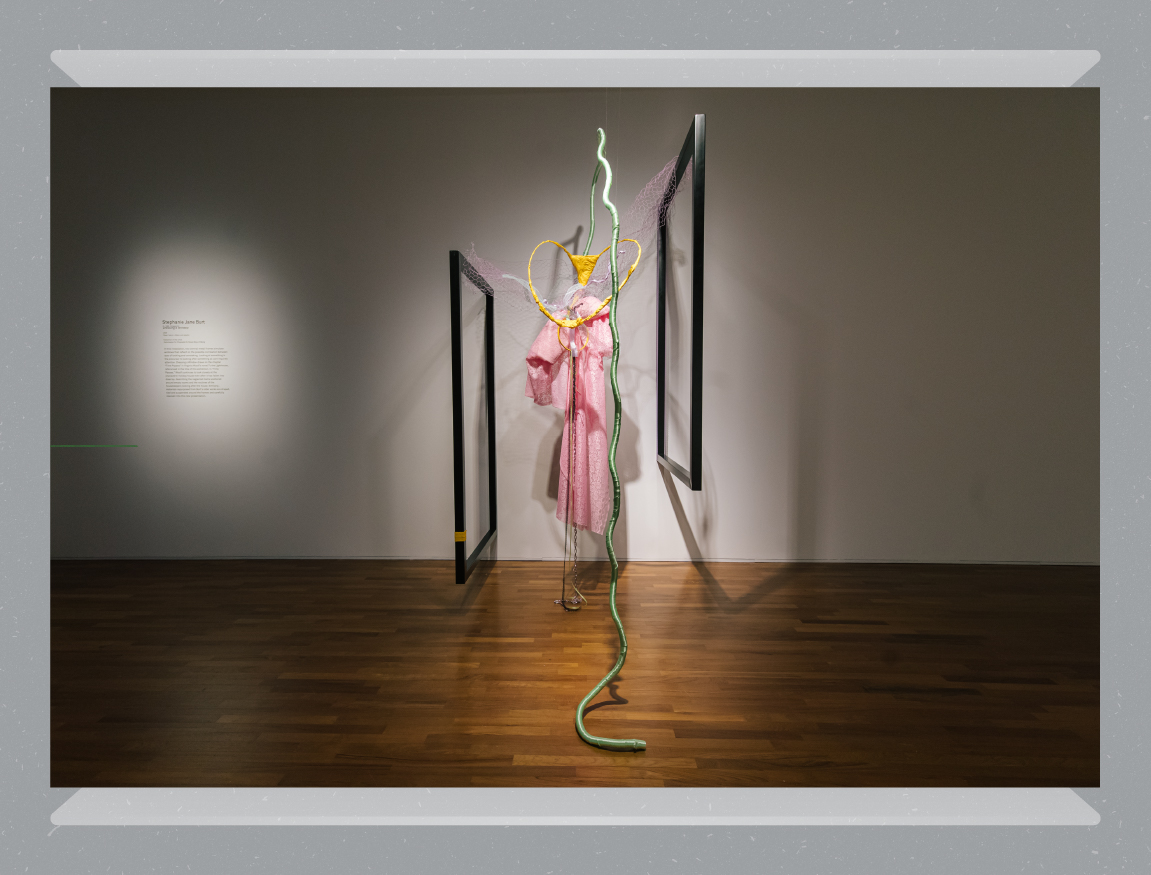 Dressing a Window (2020) at the Time Passes exhibition.
How have you passed time during the pandemic?
Self-care was my priority during this period, so I implemented morning rituals such as meditating, journaling and listening to music. I also caught up on my research.
Has the pandemic impacted your views about art?
The pandemic forced everyone to learn how to take better care of themselves, be it in hygiene or mental health. I think art is just as important as ever.
During a pandemic, our conception of what is essential is being actively challenged and reconstructed. I think of drawing and writing as avenues of private self-expression that are especially critical during an isolating period such as the recently-lifted circuit breaker. When we look at the work of an artist, we are usually confronted with the final (completed) work and do not see (and perhaps conceive) of the labour, experiences, self-reflection that goes behind it. The artist is someone who seeks a novel way of looking at the world and attempts to borrow the hand of the medium to find companionship.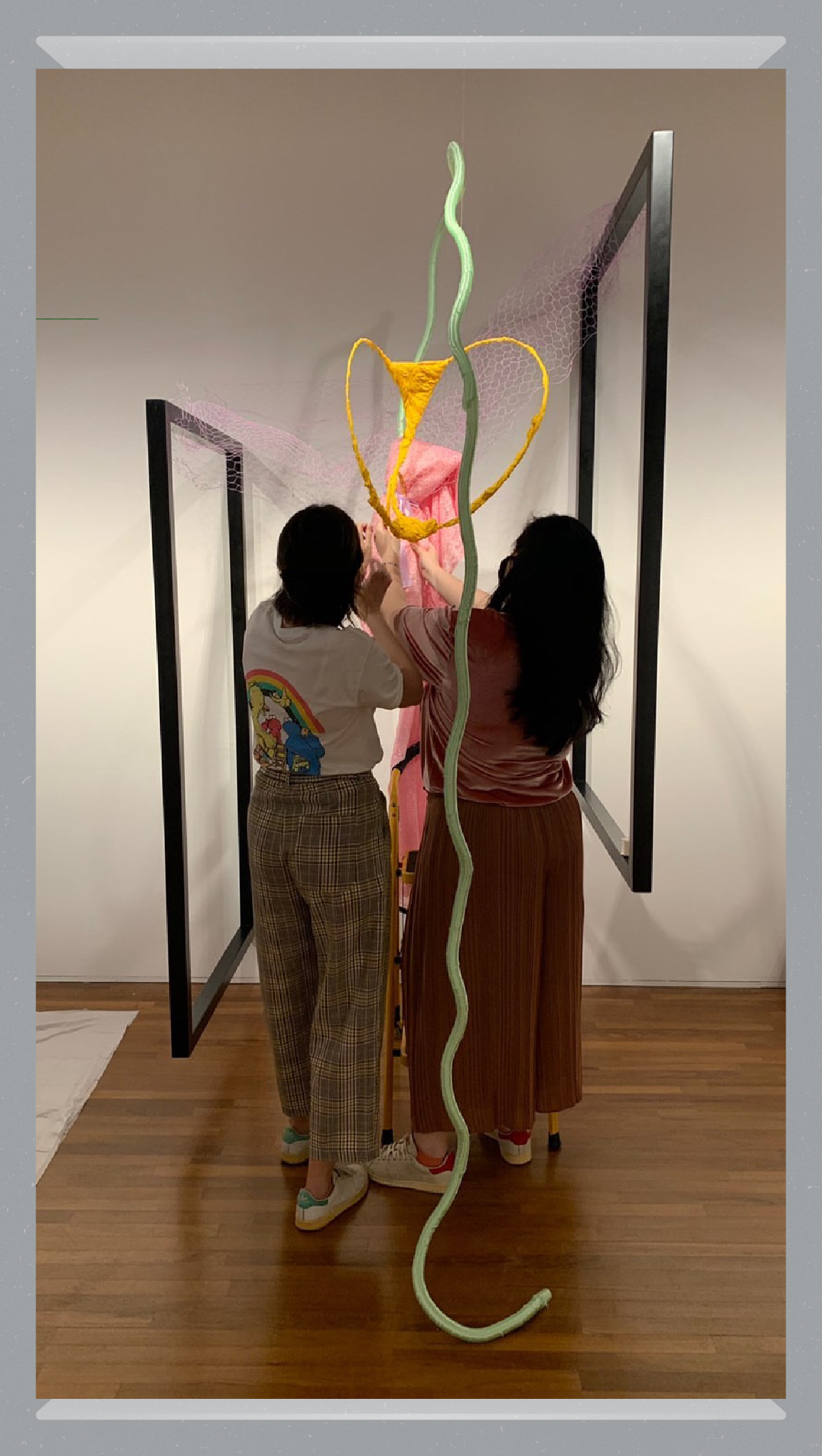 Stephanie (left) and guest curator for Time Passes Samantha Yap (right) installing Dressing a Window (Image courtesy of Divaagar).
How might we see it in your work for Time Passes?
Time Passes references a chapter in Virginia Woolf's novel To the Lighthouse, which follows two particular days with a span of 10 years between them. In the text, we find the housekeeper returning to the derelict house to clean and dust. She opens the windows. The room is described in adjective detail. Old furniture is taken apart and polished. I found an inclination in expressing this labour of maintenance and see it as relevant to the collective struggle we experience within and beyond the pandemic. My work follows this particular scene between two frames, acting as windows, opening up possibilities of interpretation and criticality within these snapshots in time.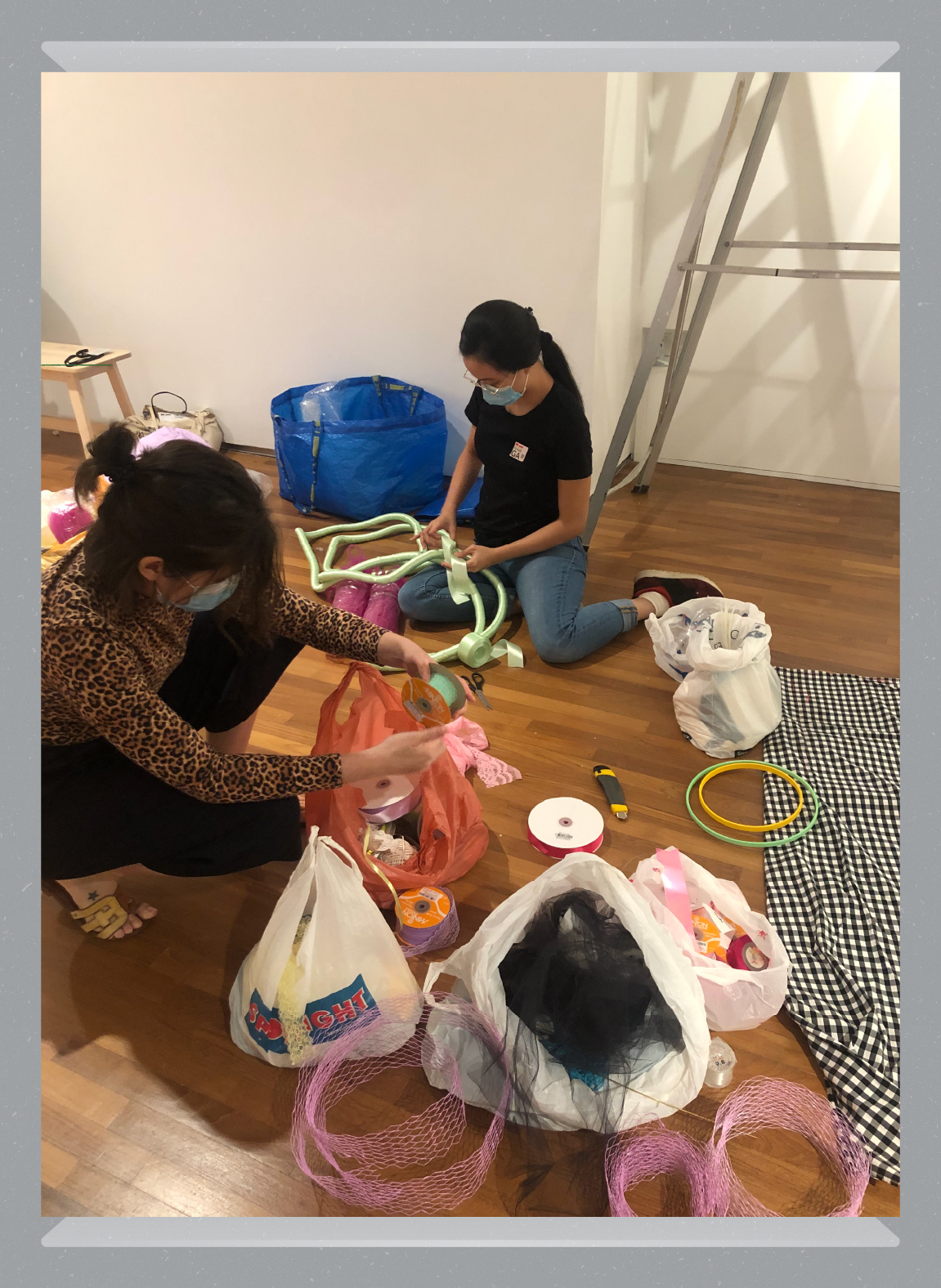 Stephanie (left) and her assistant Dwi (middle) sorting through materials while constructing the artwork in the gallery (Image courtesy of Samantha Yap).
The possibilities of caring and continuing are major themes explored in this exhibition. How might they relate to your practice?
Collecting and sourcing for unwanted and abandoned materials is a large part of my practice and process. They seem to mirror a form of care whereby attention is given to what was previously neglected. And new meaning is placed into them through the process of repurposing and reinterpreting them in a new context. In doing so, themes of continuance are explored through extending the life span of these previously disposed paraphernalia.
Another facet of exploration with these two major themes revolves around the act of looking – we specifically consider the gaze of the author in Woolf's novels towards her characters. This becomes apparent perhaps through comparison with filmmaker Alfred Hitchcock's work, wherein the gaze exacts a kind of violence on his subjects while Woolf demonstrates a tenderness with what she observes and describes through her texts. This might be a great segue to discuss the female gaze, drawing links between care and observation.
In such challenging times, what are some ways you have taken care of yourself, your practice and others around you? What role can art play in all of this?
Keeping a weekly schedule and following up on meetings with my studio partner allowed us to encourage each other even when we could not physically meet. Making it necessary to change out of nightwear whilst working at my desk allowed me to separate my headspace. While art does not give us physical sustenance, it allows us to examine important intricacies in our well-being. It calls for observation on the environment and self. This act of looking allows us to understand and connect with the world and the community around us.
'Time Passes' is part of 'Proposals for Novel Ways of Being', a collective response by the visual arts community to the global pandemic and its impact on our community. Come see the work of Stephanie and 12 other artists at the National Gallery Singapore from now till 21 February 2021. For more information, please visit https://bit.ly/sam-timepasses.