At Home with Art, Together
In 2021, SAM launched its residencies programme to further the discourse and creation of knowledge that is not bogged down by production.
Three artists based in Singapore – Chu Hao Pei, Salty Xi Jie Ng and Johann Yamin – were invited for the pilot residency programme held by SAM from January to May 2021. While residencies have traditionally involved overseas travel and a dedicated physical space, both were unavailable as the pandemic restricted travel and the museum was still closed for a major redevelopment. The trio share how they constructed a "local" residency and what the experience of learning together brought to their practices.
Please visit the SAM Residencies page for more information about the programme, including details of past and current residents as well as the latest news and events.
---
Why partake in SAM's residencies programme?
Xi Jie: It is an important opportunity to understand how a contemporary art museum works, with the aim of demystifying this esteemed and complex part of the art ecosystem. This means different things for me, such as having access to conversations with curators – I hardly knew any before this. It also means studying the museum's relationship with social forms of art in ways that can, among other things, reflect on how art institutions relate to the non-art world.
Hao Pei: The key motivations for me have been the available infrastructure and resources, the dedicated time to process my practice and the luxury of having conversations with other residents and curators.
Johann: My experience of cultural work has been one of being rather diffracted and scattered, physically and mentally – of occupying a varying number of roles and spaces within and without the cultural sphere. A residency allows me to ground myself in a particular headspace, affording the resources or structures that provide contours to one's practice, and prising open spaces for lines of research.
There are also significant shifts in Singapore's contemporary art landscape, whether institutionally or in evolving notions of cultural work. One could view the residencies programme as an institution's reckoning with these shifts – I am deeply curious to see how this will manifest in time.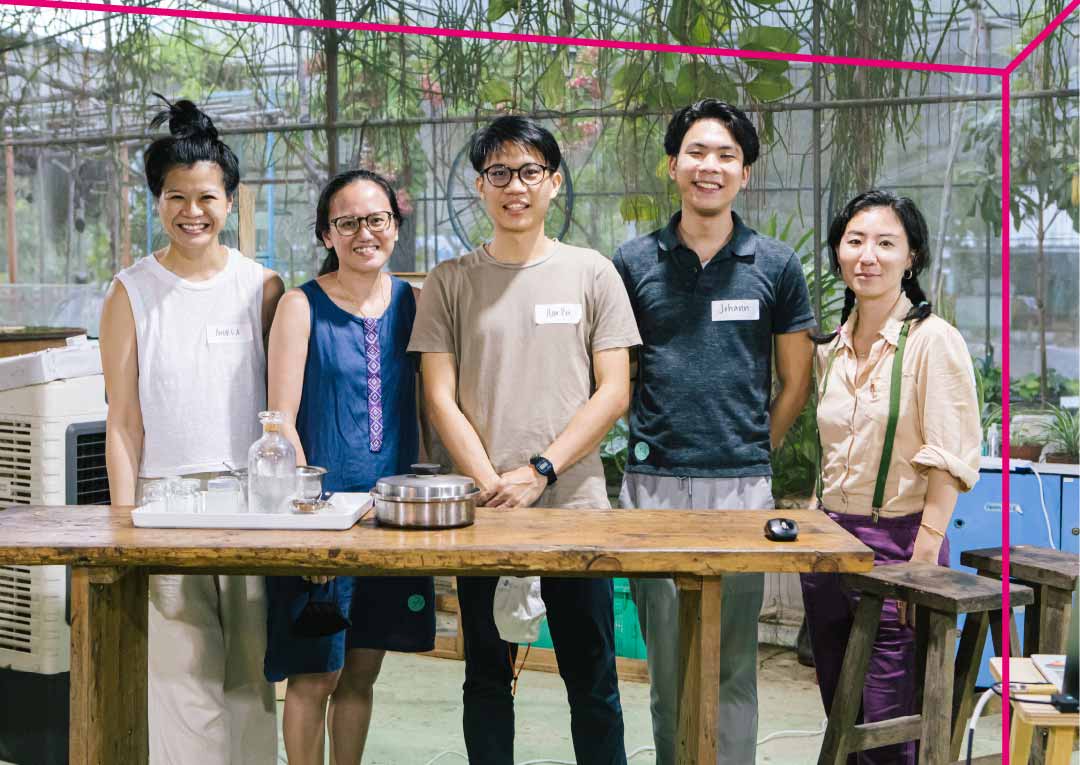 (From left) Andrea Fam and Khim Ong from the SAM Residencies team, with the residents, Chu Hao Pei, Johann Yamin and Salty Xi Jie Ng.
The pilot residencies programme operates without a physical space. How did each of you define what a "residency" is?
Xi Jie: A residency to me is, first and foremost, a conceptual space that is in my life for a span of time, during which I consider the residency site as context for art-making. I study narratives and histories relevant to the site, which in this case means studying the museum. This could manifest as going into its archives or collection, interviewing curators and janitors, or having a sleepover in the space. I could also use the residency to engage in research that is not necessarily related to the site, but becomes changed from its support, such as critical dialogue.
During the residency, my mind and heart are energetically with this new and temporary living space for my curious psyche. Fellow artists-in-residence and curators are a clan for thinking, making and sharing meals – ways of being in life together for now.
Hao Pei: A "residency" to me is a period dedicated for exploration, conversations and experimentation. Although we might not have a physical space, we have managed to make use of available resources and SAM's public programmes to test and share new ideas. More importantly, we have gathered for conversations and exchanges of our ongoing projects from time to time, which I feel is what makes a residency complete.
Johann: Residencies have more recently been predicated upon the presumed mobility of the contemporary artist, with the assumption that such contextual differences (geo-culturally, politically, socially, and so forth) are inherently enriching for an artistic practice. While it can be beneficial, I remain cautious of how it is often modulated by differentials such as class, for instance. The restriction of international mobility and its disproportionate effects during this pandemic only throws these questions into starker relief.
A local residency then, may perhaps be an invitation to develop close, sustained engagements with pre-existing localities, temporalities, and interests. A residency without space is one that sees the significance of an artist's practice beyond physicality and objecthood, but something that perhaps lies in that which is discursive, social, or structural.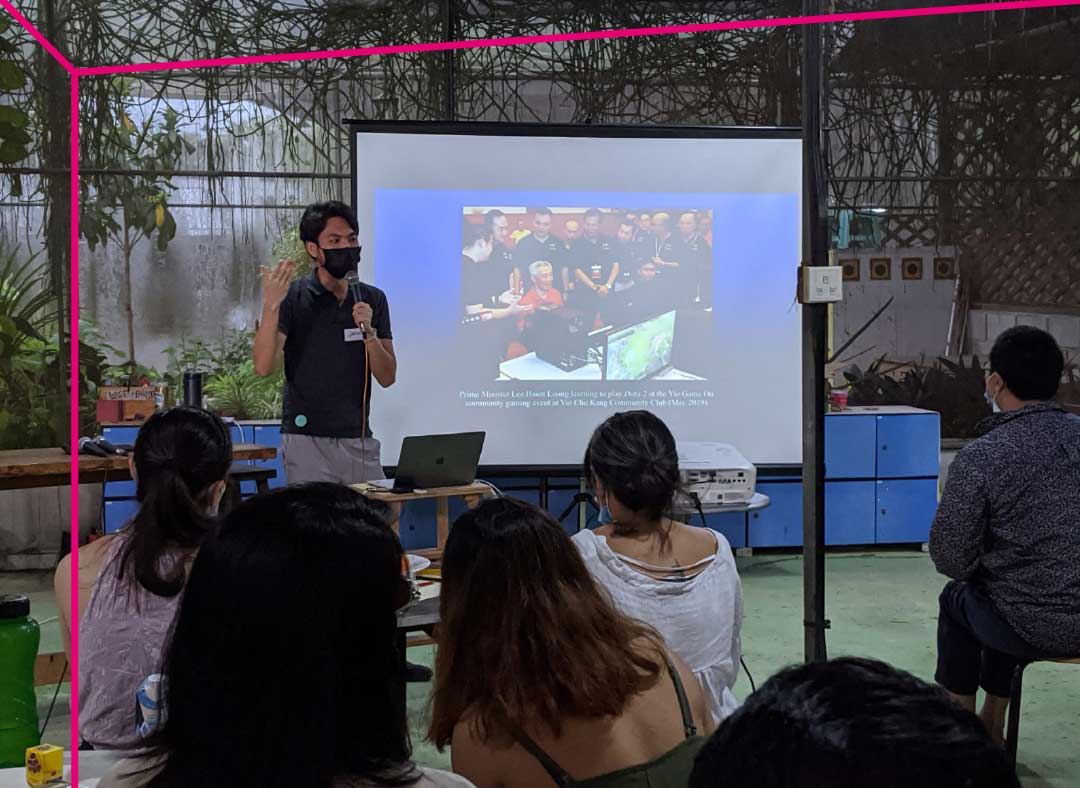 Johann sharing his research at Ground-Up Initiative.
One of the goals of SAM Residences is to incubate new approaches to art. What have each of you been exploring through the residency?
Xi Jie: I have been exploring SAM's relationship with social forms of art, specifically through the lens of museum acquisition, which is held up in the art world as a prestigious and desirable mark of success. Why, how and what do we preserve? While looking at SAM's past work and current collection, I am speaking with its curators and directors about the museum's collection strategy and what it means to acquire social forms of art when these practices often resist collection, as well as with artists on the acquisition of relics from their participatory or dialogical processes.
The second project is starting a long-term inquiry into the intersections of grief, ancestor worship, ritual and Chinese folk religion. Catalysed by my grandma's recent passing, I am relooking the Chinese folk religion practices I grew up with by speaking to spiritual and religious experts, as well as engaging in creative acts of grief like analysing dreams of my grandma recorded by my family.
Hao Pei: I have been researching and developing a long-term project on seed sovereignty in the context of rice. It started from my 2019 artist residency at the Cemeti Institute for Art and Society where I interacted with Sekolah Tani Muda (Young Farmers School) in Yogyakarta, Indonesia. In the SAM residency, I have been experimenting with a recipe from rice and speculating how its disappearance may unravel the shifts in our food culture and the history behind rice seed sovereignty issues in Southeast Asia. The SAM residency has provided me opportunities to explore new approaches to the subject.
Serving rice water, a speculative disappearing recipe from Hao Pei.
Image courtesy of Andrea Fam.
Johann: I don't think my approach to art is particularly new! I've merely continued in my attempts to articulate prior traces that have been left within me — of culture, history, technology, and so forth. In trying to construct an inventory of these traces, I have been thinking through the notion of the "metagame" – how a game interfaces beyond itself – and how it might operate as a curatorial and artistic practice. To me, this framework serves as a gathering of portals to seemingly incommensurate worlds.
I have been fascinated by eSports and its entanglements within histories of sport, particularly from the context of Southeast Asia. These interests were amplified by the turn towards gaming for connection and comfort during the pandemic. Alongside this, I've been thinking through the notion of "queer gaming", where communities carve out space within historically exclusionary ecologies while seeking to disrupt the predominantly capitalist logics of a culture industry.
Another feature of SAM Residences is hosting different artistic approaches that respond to a shared theme. For the current residency cycle, it was about ideas of systems and connectedness, intimacy and technology. What is one thing you have learnt from one another through the residency?
Xi Jie: Johann's research into gaming and eSports is, within my radar, esoteric and novel. It has given me helpful and fun ways to think of the art ecosystem, both globally and locally, as a metagame. I would love to see more critical self-reflexivity, punking and challenging the art ecosystem based off of his research.
Hao Pei's long-term project on rice and geopolitical relations is deeply inspiring as a research frame. He's addressing the intersections of survival, culture and politics in ways that are both critical and accessible. This is the kind of stuff NAC should be programming for Arts In Your Neighbourhood to incite more critical thinking about the everyday in relation to larger social discourses.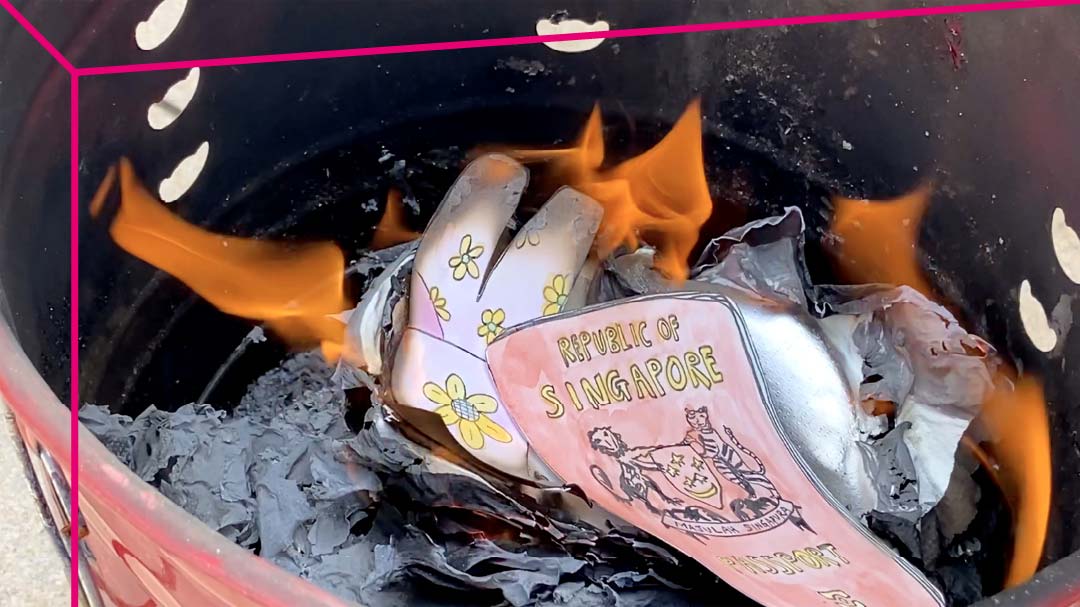 Homemade, customised paper effigies by Xi Jie for a deceased loved one. Image courtesy of Salty Xi Jie Ng
Hao Pei: Xi Jie's probe into Singapore institution's relationship with social practices is both ground-breaking and refreshing. It could be a precedent to a larger framework in defining social practices beyond the art historical canon. Her personal inquiry into the folk religion practices also challenges our convoluted views of vernacular practices and what one 'envisions' or 'expects' in the other world.
Johann's intricate research into early new media art forms in Singapore, the internet infrastructure for gaming and eSports reveal how nationalism in the meta-world is constantly shifting and negating the political forces in the world. Through the form of his "metagame", it contests our boundaries of intimacy and technology, a phenomenon I would not otherwise associate together myself.
Johann: I deeply admire the knowledge Hao Pei has amassed from his work around the region. Whenever he speaks of his practice, it always comes through with the depth and earnestness of lived experience. It is telling of the intimacies embedded within food systems regionally and locally.
From Xi Jie's immense sense of responsibility and care towards the people she works with, I am continually prompted to think about the complexities of embodying and enacting socially-engaged practices, alongside broader questions of for whom contemporary art is for, and what "community" might mean across contexts.
The pandemic has made us question our workspaces. What does the phenomenon mean for each of you as artists and how might future SAM Residences respond to it in the future?
Xi Jie: The pandemic and social uprisings that happened alongside it have made social change, justice and equality urgent and non-negotiable. Arts institutions worldwide are taking a hard look at how they have been run, what kind of art they support, and how they relate to urgent social issues. I imagine and hope SAM is doing the same.
Also, being locked in our homes, districts or countries has made experiencing art in person a defined, acknowledged element of art-making, whereas it was taken for granted before. In a world facing growing isolation, it makes sense that physical togetherness has been recognised, even appreciated and marvelled at.
Hao Pei: I have learnt to be more resourceful in the spaces that we are confined to, as well as re-examining and also recalibrating my practice. As the pilot batch without a physical space, we have learnt how to interact both online and through casual meetups (i.e. over meals). It gives the residency a social and light touch, instead of a stern "working" environment – something I enjoyed a lot.
Johann: A residency that decentres physical space affords a natural segue into my explorations of digitality and its infrastructures. While internet-based and digital practices predate the pandemic and have been established in contemporary art, this doesn't necessarily make the situation any less tumultuous for many cultural workers. My experience as an individual who is inclined to work across digital interfaces and online worlds is a specific one and perhaps an operation of a form of privilege. I remain deeply wary of valorising narratives towards digitalisation, and weary of overeager corporate neologisms like the 'phygital'.
I imagine an online residency could be generative for a swathe of local and international artists whose practices skew towards the digital. At the same time, such responses to the pandemic need not necessarily be undertaken or "led" by institutions – I don't want to underestimate the ability for artists to self-organise.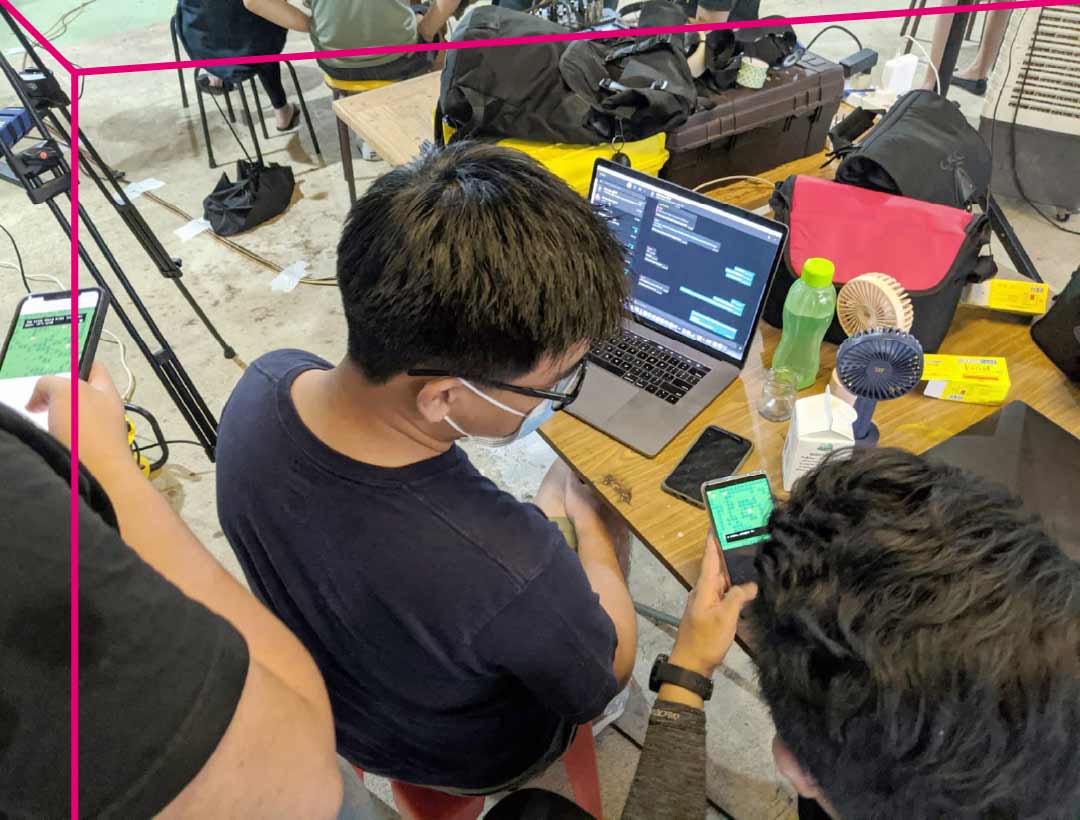 Participants accessing a game made by Johann during a sharing session held at Ground-Up Initiative.
How would you describe your experience with the SAM Residencies programme?
Xi Jie: Since this is the pilot, I think we're helping to shape and inform what the future Residencies programme can look like, what artists enjoy support in or feel strongly about. I'll end with a list of things: foraged clitoris flowers, hyper-orderly Heritage Conservation Centre, Khim's (Head of SAM's Residencies programme) jade bangle, unrelenting rain, podi ghee thosai, cheerful emails from Andrea (Assistant curator at SAM and part of the residencies team), SAM's 2012 exhibition brochures, Han Sai Por's profile in an old Singapore Artist Directory.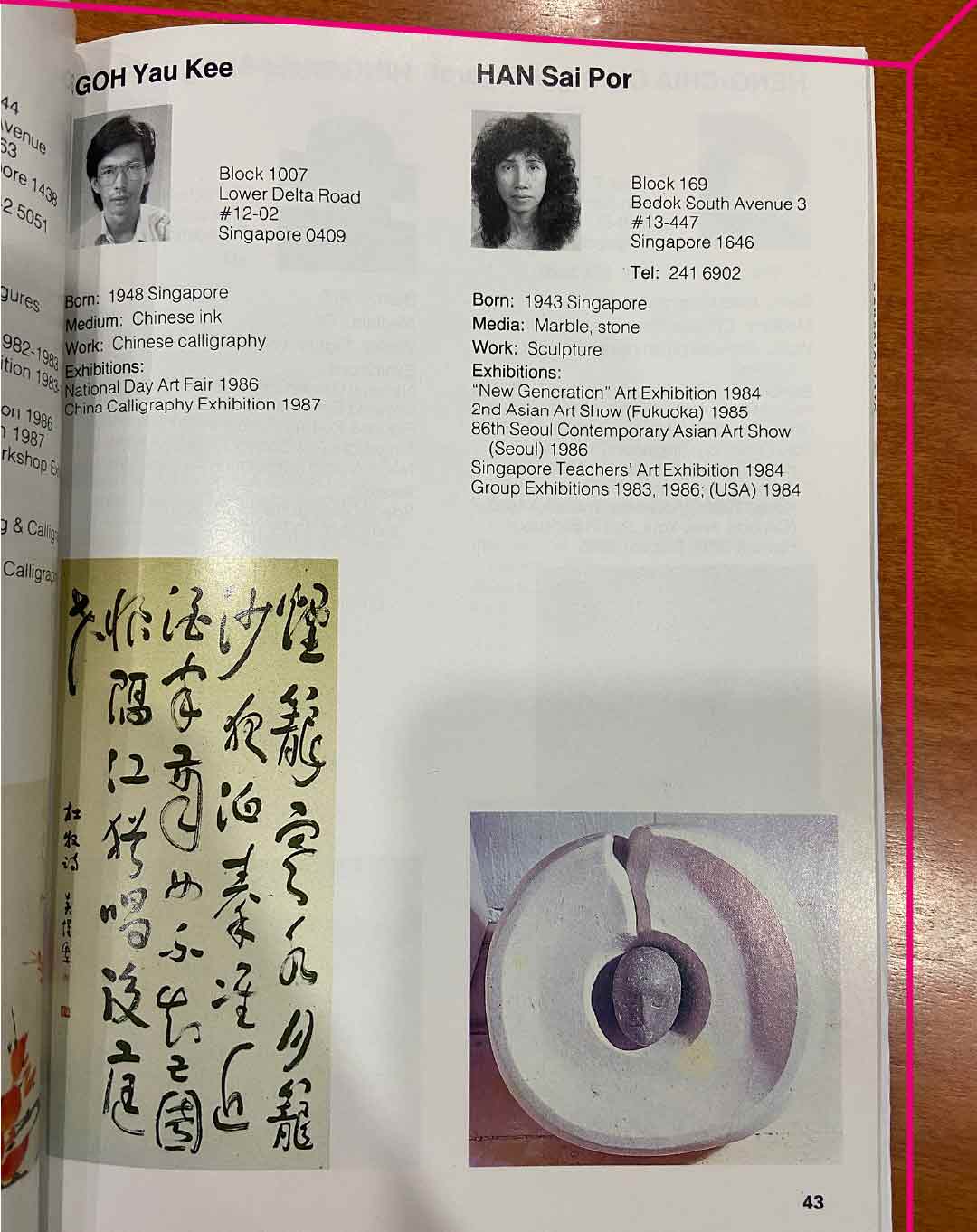 Page from the Singapore Artist Directory that Xi Jie discovered in the SAM archives.
Courtesy of Salty Xi Jie Ng.
Hao Pei: So far so good! We are under no pressure to deliver an outcome and we have been given the capacity, time and support – whenever we need – to explore our own interests in the process. The access to otherwise relatively unknown resources like the visit to the Heritage Conversation Centre and the SAM library, has made the experience with the SAM Residencies a more holistic one.
Johann: I'd like to think of this experience, of sharing time with the other artists-in-residence and SAM curators, as a kind of hypertextual kinship – to use the term very, very loosely. In this sense I am imagining it as the coming together of seemingly disparate approaches, allowing them to commingle and outstretch, taking complex forms that are both branching and interwoven.
The next cycle of SAM Residents will start their residency in July 2021. The international group of residents are selected from an open call and will engage with topics ranging from intimacy, infrastructures, to the impact of technology on contemporary life. Stay tuned about who they are and their work via our Facebook, Instagram and LinkedIn pages.