One Man's Story on the Art of Art Giving
A #GIVINGWEEKSG SPECIAL PART ONE
In this two-part series, our donors and beneficiaries share how contemporary art has transformed their lives. We hope their stories will inspire you to support the arts by making a small donation to our fundraising campaign. Every donation, no matter how big or small, will help SAM sustain its museum, artists, exhibitions and programmes, and advance our mission of championing contemporary art in Singapore. Read Part Two here.
---
Humanitarian aid. Education. Animal Welfare. There are many causes deserving of support. For Kenneth Tan, it is the arts and culture. He contributes to the arts scene by loaning works, mentoring young artists, and donating to art institutions. In 2015, he also financially supported SAM's acquisition of Singaporean contemporary artist Suzann Victor's WeCloud.
We caught up with Kenneth to find out more about his love for contemporary art and why he gives to it.
How did you get started in collecting contemporary art?
My relationship with art is intimate. I took a year off in between high school and university to pursue a diploma in art history. I started collecting 20 years ago when I returned to Singapore in 2002 and was introduced by an old friend who used to be a partner in an art gallery.

Art has enriched my life in so many ways, leading me to people that I would never have met and established relationships that have become incredibly valuable to me. It has led me to have a greater understanding of myself and to see things from many sides.
Why did you support SAM in acquiring Suzann Victor's WeCloud (2015)?
I learned that the museum had an interest to acquire it but didn't have the funds. I thought that was such a silly reason for it not to be in its rightful place. Suzann is a remarkable multidisciplinary artist. Her work is theatrical, interactive and stunning. And she's a pioneer – the first woman to represent Singapore in the Venice Biennale. She represents the energy and talent that Singapore is capable of producing. This particular work is also a great example of that. I think important works by important artists like Suzann need to be in the National Collection. It was an easy decision.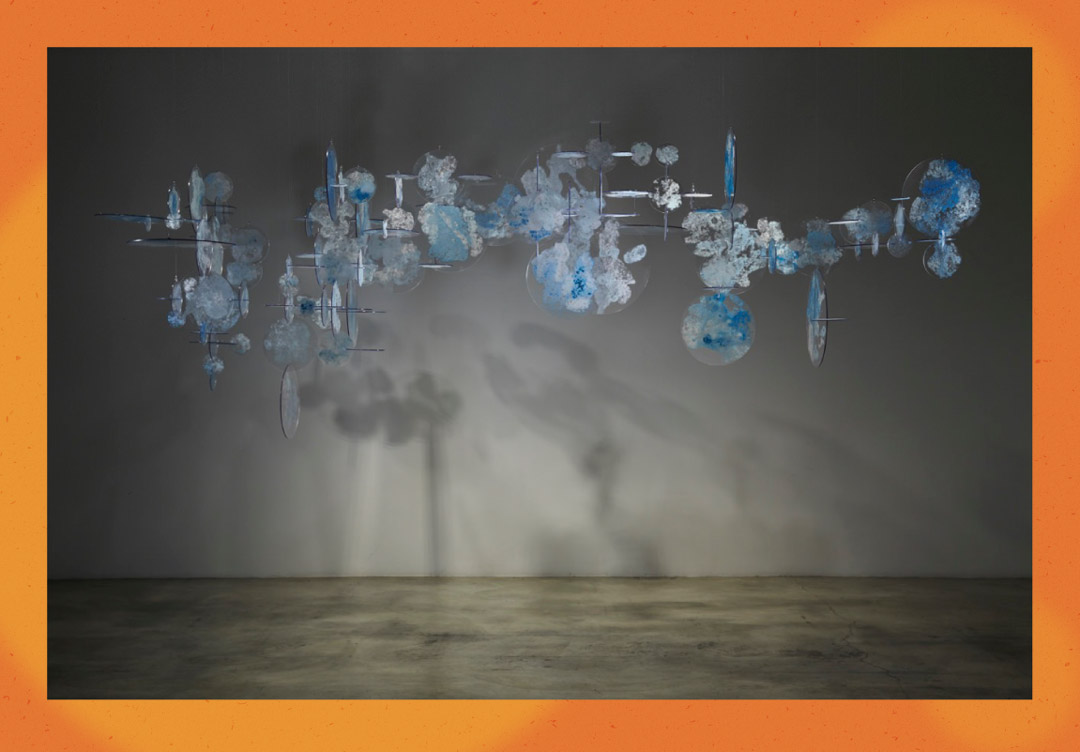 Instead of painting on paper, Suzann "painted" clouds by pouring spoons of liquid paper pulp into clear acrylic discs. The result is WeCloud, which from afar looks like delicate blue vapours vanishing into the air but changes when one gets closer. Photography by Cher Him; image courtesy of Suzann Victor.
How else have you contributed to the arts scene?
Aside from giving money, I lend artworks from my private collection to museums and exhibitions. Every year, my wife and I choose two young Singaporean artists that are just starting out to provide them a cash stipend and networking opportunities to help grow their careers. Younger artists typically don't know people and they don't have much money. But they have energy and ideas.
It's been enriching. I've learnt so much from these young people. They have something to say and they are using art to say it. To me, a more important driver of success than the artist's ability to sell their painting is how well they communicate their ideas, and whether or not they have the vision to take it through.
Amongst the many causes worth supporting, why do you give to the arts?
Art has given me multiple times over what I could ever have imagined. It has given me the opportunity to understand, discuss and argue about ideas from artists. That's the power of a singular artwork – even if it's a banana that is pinned to the wall. I don't get it either. But why is it that I don't get it? Is it that I'm not smart enough? Maybe there's something I'm not seeing or feeling. Or maybe this exact feeling is what the artist wants to get out of me. The ability to start a discussion like that is so difficult and art has the ability to do that really well.
Supporting the arts may not seem easy because you don't see the immediate benefits, such as when you donate to a hospice and you can see the work being done. But at the very essence of it, giving to the arts is like a vote of confidence for better and clearer communication between us all. It's about the exchange of ideas. It's about helping us understand each other better.


---
But at the very essence of it, giving to the arts is like a vote of confidence for better and clearer communication between us all. It's about the exchange of ideas. It's about helping us understand each other better.
---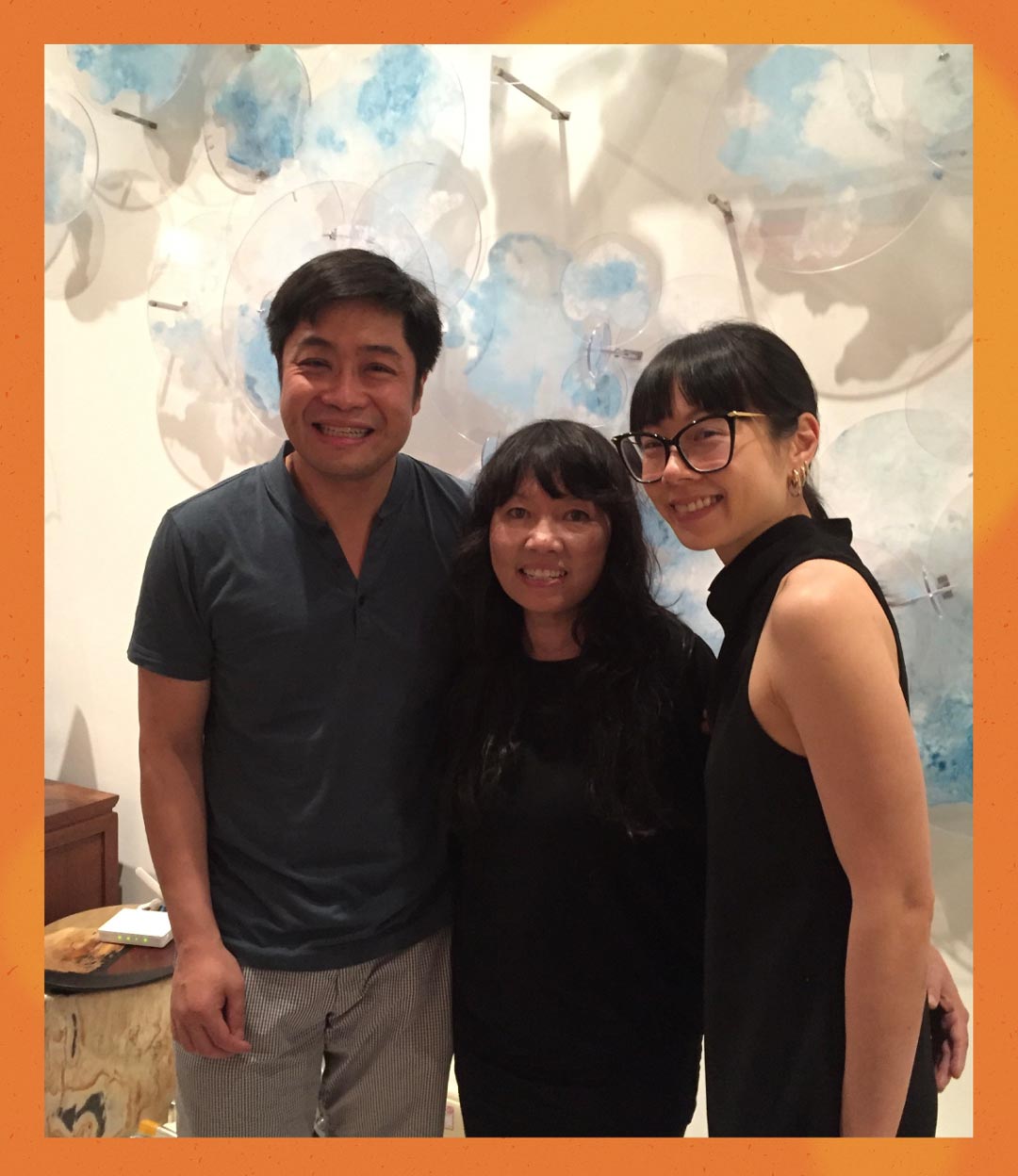 Kenneth and his wife Penny (right) with the artist Suzann (middle). Image courtesy of Kenneth Tan.
How are the rest of your family, including your two sons, involved in your journey with the arts? What do you hope they learn from it?
My wife is very supportive and she similarly recognises that this is a journey that both of us are on. Ultimately, I hope they can learn that my love and support for the arts means that there is always more than one view point, more than one way to live, more than one way to communicate.

What are you looking forward to seeing in SAM when it reopens?
As a Singapore art museum, it needs to capture the imagination of the public, and have the energy to start a discourse among its visitors that ultimately furthers our understanding of not just each other, but of humanity.
That's a big task.