The Great Cover-Up ft. Pooja Nansi
As a writer, poet and educator whose favourite art-making medium is – in her own words – a Microsoft Word document1, Pooja Nansi has gone BIG this time to present a sprawling work on an unlikely medium: the hoarding of a heritage building that is presently undergoing redevelopment. Yes, we're talking about the SAM building.
Featured in this year's line-up of Singapore Biennale artists, her new work Coping Mechanisms is presented on the hoarding around the site of SAM at 8Q. We caught up with Pooja to dive deeper into her artwork, her own coping mechanisms and to sneak a peek into her poetic mind.
_____
1. Coping Mechanisms materialises from private conversations you had with your friends during a difficult period. What gave rise to the idea of turning these conversations from your personal group chats into an artwork in a public space?
Dealing with a level of constant invisibility can wear you down quickly and this work arose in the midst of conversations that we were having as a response to an act of racism that shook public consciousness. Responses to discrimination, especially when you exist as a minority of any kind can often be anger, exhaustion, shame and helplessness.
So, when we encouraged each to consider the things we were doing that gave us joy or allowed us to carry on in the face of it all. I was taken by how empowering and uplifting that felt. How each of our specific personal moments culminated in a communal celebration.
Turning those snippets of conversation into art for a public space was a to decision to display what choosing joy in the face of it all looks like, and how it can be in itself, an act of resistance.
Image courtesy of Pooja Nansi

2. How does Coping Mechanisms respond to Singapore Biennale 2019's concept of art's and artist's potential to effect positive changes on the world?
I've always believed that the most profound art comes from the deeply personal and Coping Mechanisms is truly art that comes from the lived experiences of many people in this city from all walks of life. Some of the respondents whose text I've used are teachers, some are writers, some are nurses, some work in human resource. All of them love this city enough to want it to be better.
It's a giant hoarding in the middle of the city with our collective thoughts and feelings that are a reminder that we keep going when the going gets tough with a little help from our friends.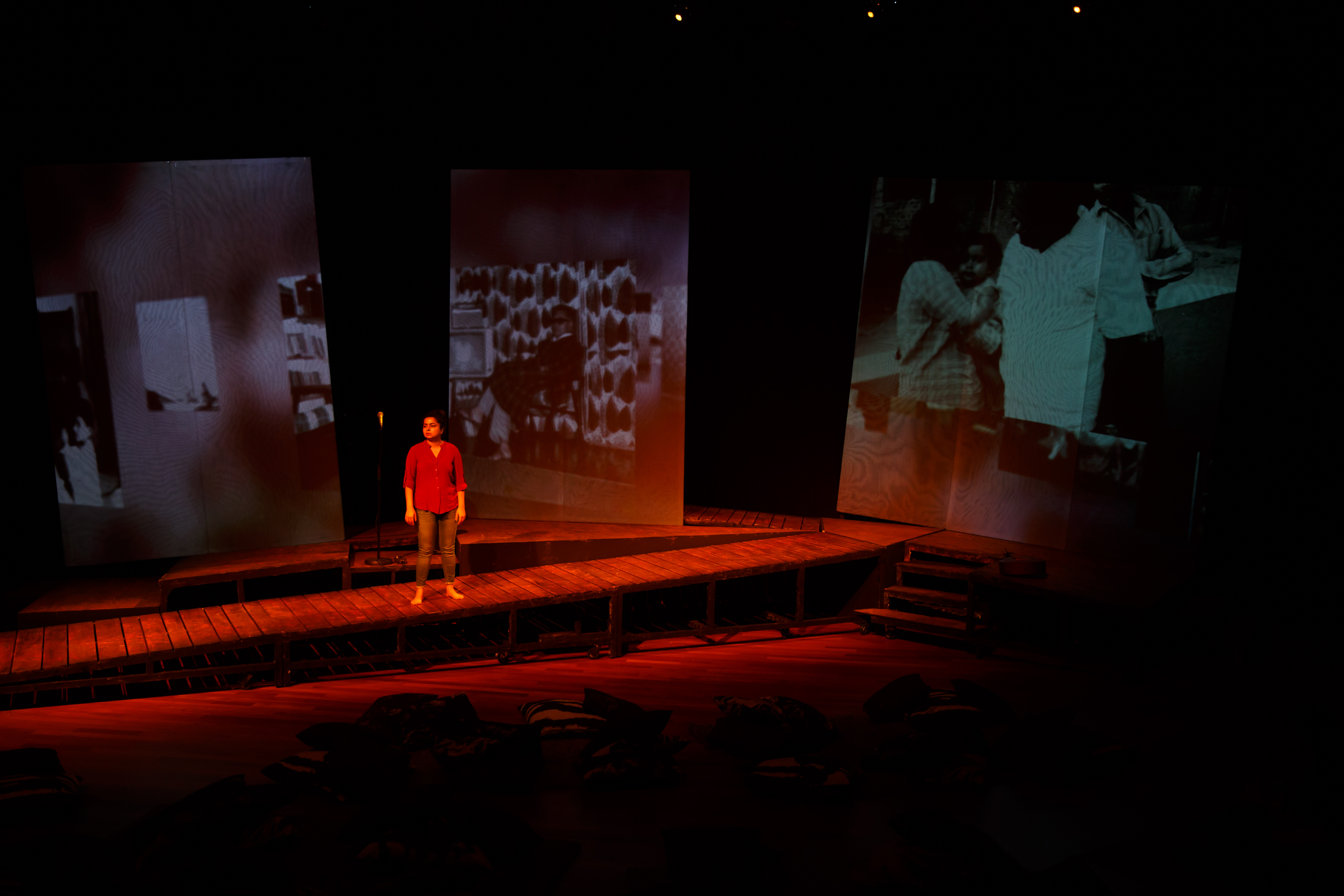 Image courtesy of Pooja Nansi. Photo credit: Esplanade – Theatres on the Bay
3. What is your own coping mechanism when it comes to dealing with critics and naysayers?
As a relatively young woman working in a leadership position in the Arts, I am constantly aware of the microaggressions I endure both as a result of sexism and racism. My coping mechanisms when dealing with naysayers are staunch defiance, a deep sense of humour and my friends.

4. Have you ever received a feedback that has had a profound impact on your artistic practice today?
Not so much feedback but a quote that's had a profound impact on my artistic practice has come from Dolly Parton who once said "find out who you are and do it on purpose". And I'm happy to report, I plan on doing exactly that, much to the dismay of critics.
Image courtesy of Pooja Nansi
5. Like SAM's museum buildings that are undergoing a redevelopment, if there's an opportunity for Pooja Nansi to do things differently, which aspects would she keep, and which aspects would she change?
Honestly, I'd keep all my life experiences, they've all taught me to be who I am today. And I really like who I am. I guess though, I would wish for better self-control when it came to Calbee Hot and Spicy Potato Chips.
6. If you could describe our museum buildings with one word or a phrase, what would it be?
Morphing
7. In 'Pooja Nansi's Guide to Becoming a Poet', what would be the most important advice you would give to aspiring poets?
Read
Image courtesy of Pooja Nansi

8. As a lover of the spoken word, which word in your opinion is the most beautiful word in the English lexicon?
Freedom, and the other F word.
9. What is/are your personal #lifehack(s) for overcoming a creative block?
Going dancing to 90s Hip Hop, washing my hair, reading a book, kissing my husband.
10. In an alternative universe where Pooja Nansi is not a writer/poet, what would she be?
A teacher.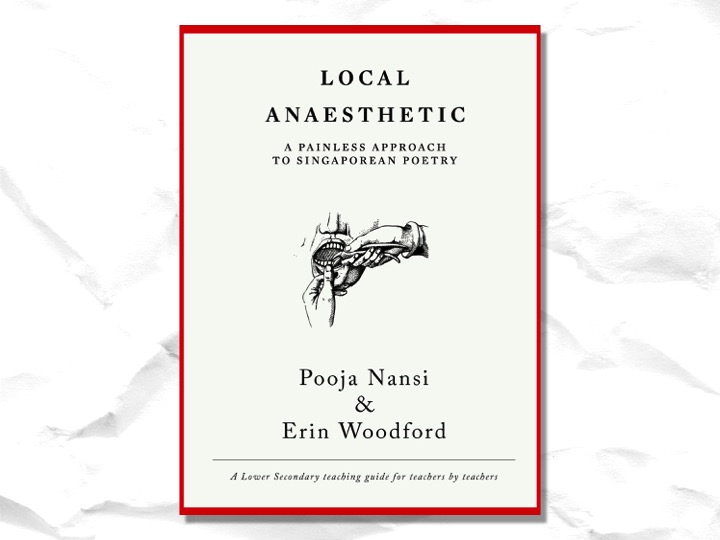 A book by Pooja Nansi and Erin Woodford for teachers who want to introduce Singaporean Poetry to young students.
Coping Mechanisms will be up during Singapore Biennale 2019, so make sure you stop by to check out the texts that made it to Pooja's artwork. You can read more about her here.
As always, we'll be back next month with more stories on SAM's redevelopment and other exclusive content. If you have a story to share about SAM or its buildings, please reach out to us at [email protected].
_____
Sources:
1 20 Questions Artist Interview with Pooja Nansi. (2017, October 18).
Retrieved from http://creativeartsocial.org/20-questions-with-pooja-nansi/.