When Two Seniors Met Art
A #GIVINGWEEKSG SPECIAL PART TWO
In this two-part series, our donors and beneficiaries share how contemporary art has transformed their lives. We hope their stories will inspire you to support the arts by making a small donation to our fundraising campaign. Every donation, no matter how big or small, will help SAM sustain its museum, artists, exhibitions and programmes, and advance our mission of championing contemporary art in Singapore. Read Part One here.
---
For two seniors, contemporary art used to make no sense to them. One thought art appreciation required specialised knowledge. Another felt it was just baffling.
Today, Ling Lik Kwok and Goh Teng Chiew count themselves as fans of contemporary art. They easily rattle off artists names, such as Jing Quek, Robert Zhao and Ezzam Rahman, and have even guided tours at Singapore Biennale 2019.
"Contemporary art is for everyone, kids to seniors. You are never too young or too old to appreciate, this is what I learned," says Mr Ling.
The retiree credits his conversion to SAM's Kopi, Teh and Contemporary Art (KTCA) programme. Both Mr Ling and Mr Goh signed up for this museum initiative started in 2019 to make contemporary art more accessible to seniors, and encourage them to stay active and socially engaged. They were part of a group of seniors from RSVP Singapore The Organisation of Senior Volunteers (RSVP) who underwent training by SAM to conduct guided tours of its exhibitions, which end with participants hanging out over a cup of coffee or tea.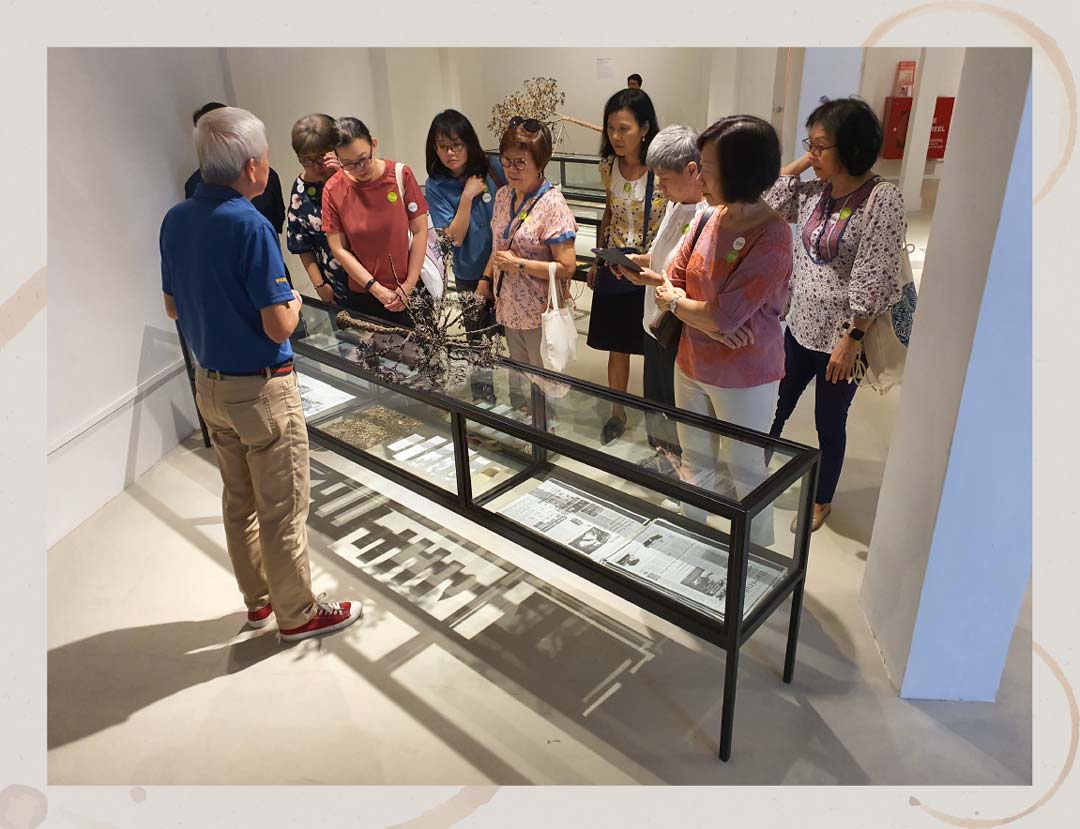 Mr Ling guiding a tour during Singapore Biennale 2019.
The two seniors were curious about contemporary art after they came across RSVP's call for participants.
"Before I joined this programme, my scope of art is those traditional forms where at a glance you know what the artist is trying to say," says Mr Goh who is a semi-retired public service officer. "If it's a building, it's a building. With contemporary art, maybe you will not see it at first glance. You need to follow through to understand what the artist is trying to do."
Mr Ling recalls encountering an installation by Ruangsak Anuwatwimon's Reincarnations (Hopea Sangal and Sindora Wallichii) at Singapore Biennale 2019. What looked at first to be just two trees on display, turned out to contain a much deeper message.
"When you understand more, actually the artist is trying to convey the message that chopping trees can affect our environment and climate change," he says. "This is a big issue right now. You don't see it now, but 50 years later it may have a great impact on us."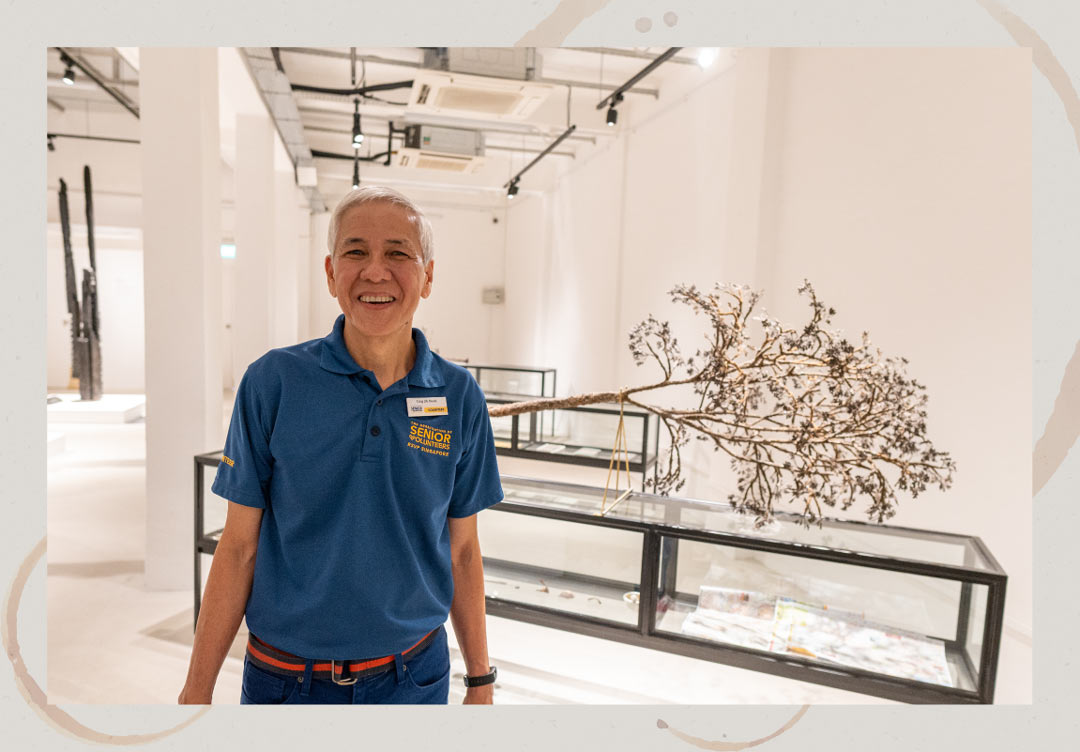 Mr Ling became more concerned about the environment and climate change after encountering Ruangsak Anuwatwimon's Reincarnations (Hopea Sangal and Sindora Wallichii) at Singapore Biennale 2019.
It is this ability of contemporary art to offer perspectives, which are often expressed in surprising ways, that has surprised both seniors most. Mr Goh was greatly impacted by Post Museum's installation on Bukit Brown at the Singapore Biennale 2019. Consisting of a stage, video performance and an archival collection, he saw the different viewpoints on the struggles to save the country's oldest cemetery through three different characters – including an unexpected stakeholder.
"As far as I was concerned, only the activists and the bureaucrats are concerned about the issue. But the artist also brought out, how about the dead people?" he says. "It's a different perspective altogether from what I've read on the newspaper."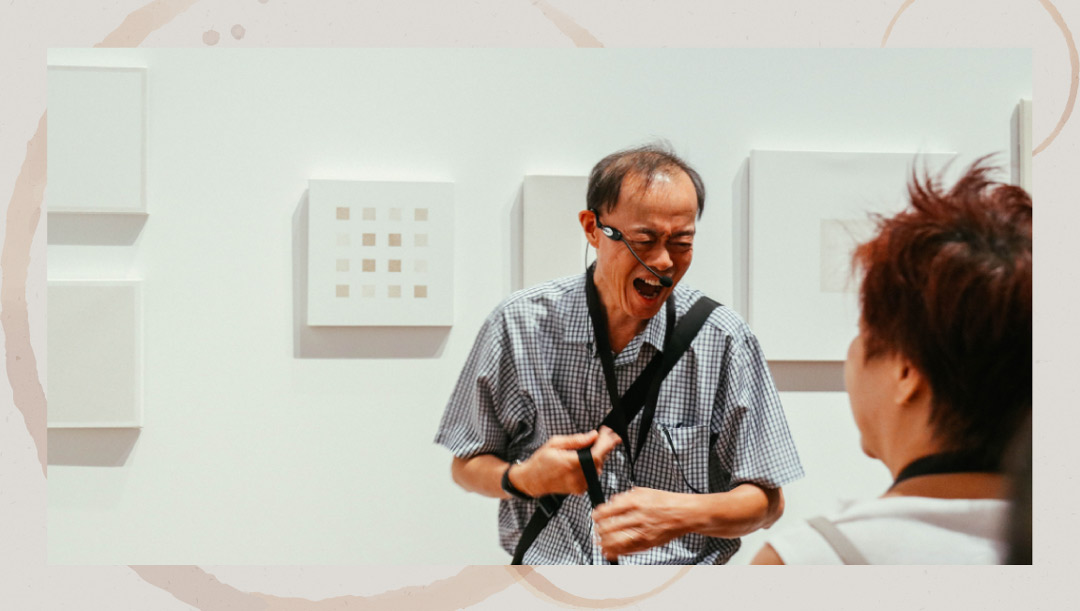 Teng Chiew in front of the artwork Time: Dust (2017-2019) during a tour he gave at Singapore Biennale 2019. Image courtesy of Mothership.sg
Their enriching encounters with contemporary art have encouraged both seniors to advocate for the arts to their family and friends. Mr Goh has visited exhibitions with his friends, but Mr Ling is still trying to convince them they have nothing to fear.
"What I want to tell the seniors is contemporary art is not hard to appreciate," he says. "There's no right or wrong… they just need to interpret in their own way."
Moreover, the tours are conducted in a variety of languages, including English, Mandarin, Malay as well as Chinese dialects.
"It is fun to use Hokkien, Teochew or Cantonese to communicate. I can brush up on my dialect too," he adds. "I actually enjoy those interactions with the other seniors. I learned a lot about life experiences for them.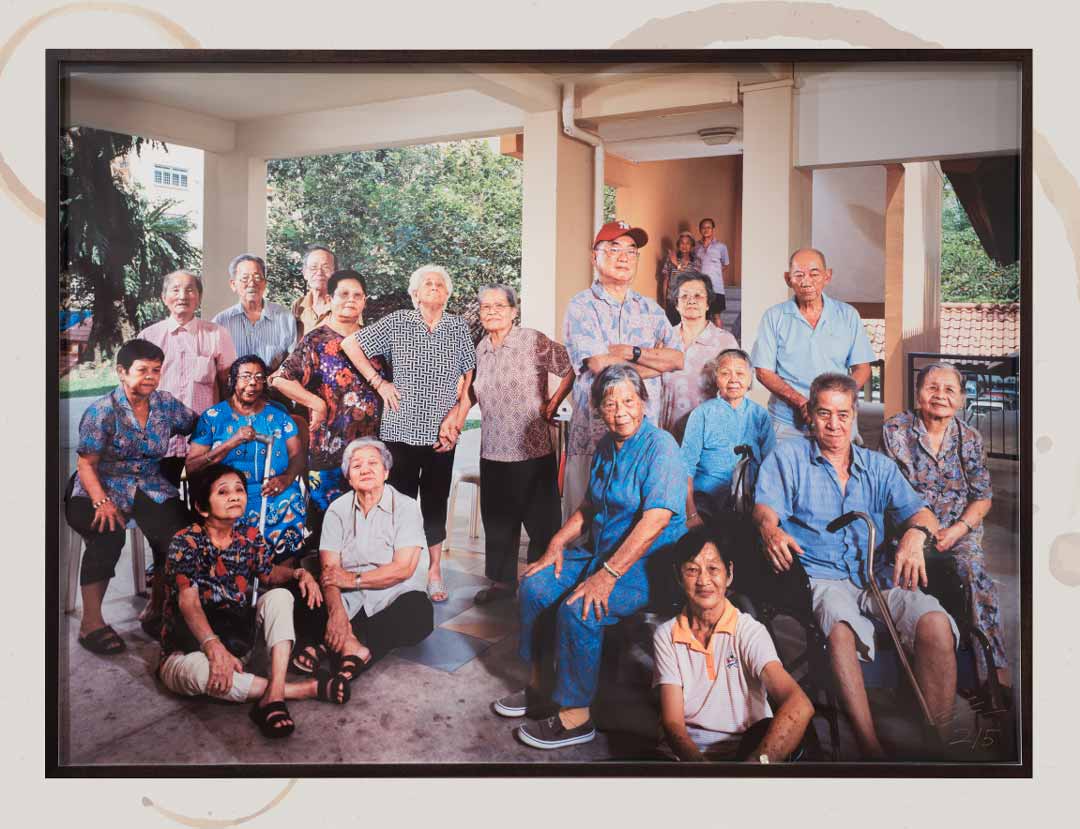 Singapore Idols – Aunties & Uncles (2006) by Jing Quek. Collection of SIngapore Art Museum.
While the pandemic has temporarily shifted KTCA programmes online, Mr Goh looks forward to when he can physically meet with others to view art again. He points to photographer Jing Quek's Singapore Idols – Aunties & Uncles (2006), a portrait of seniors gathering at the void deck waiting to go for an outing.

"You can see they are all happy going out. This is the life people want," he says. "By joining this programme, they will see things that is beyond what they see in their daily lives… I think art is a way to get people to come together."