SAM Hoarding Commission: 'An Unnatural History' by Darel Seow with Lee Xin Li
The Singapore Art Museum at 8Q resides in the former Catholic High School. This site-specific mural draws on imagination and heritage to question the histories surrounding the area, and reflect on the museum's role as a re-teller of official narratives.

An Unnatural History explores the struggle between man and nature within the heart of Singapore, the world's greenest city. The mural is complemented by a website, an ever-growing, living archive with contributions from local interest groups and experts. The dialogue between the mural and website serves to expand the exchange of knowledge.

The work is a combination of Darel Seow's passion for natural history and storytelling, and Lee Xin Li's interest in heritage and architecture. By capturing Singapore's cultural and natural history, the work challenges the viewer to consider what heritage means to them and to question the authenticity of the presentation in front of them.
Visit the An Unnatural History website, where you can further engage with Singapore's natural and built environment.
About the Artists
Darel Seow (b. 1989, Singapore) is a visual storyteller who illustrates tales of the natural world with his unique brand of wry wit and whimsy. The illustration graduate from Central Saint Martins believes in using storytelling as a means of engagement to create experiences that simultaneously excite and educate. He has worked with the British Museum (London), National Museum of Singapore, Asian Civilisations Museum (Singapore) and other cultural institutions on projects that encourage learning through the power of imagination and play.
Lee Xin Li (b. 1988, Singapore) is an independent illustrator. Based in Singapore, Lee finds inspiration in the environment he grew up in, drawing on culture, food, architecture and history. An architecture graduate from the National University of Singapore, his love for the comic series The Adventures of Tin Tin by Hergé and Guy Delisle's travel chronicles motivated him to begin drawing in 2013. His notable works include the Kueh series and Peta Singapura.
_____
Hero image:
An Unnatural History (2020); image courtesy of the Artists.
read more on the blog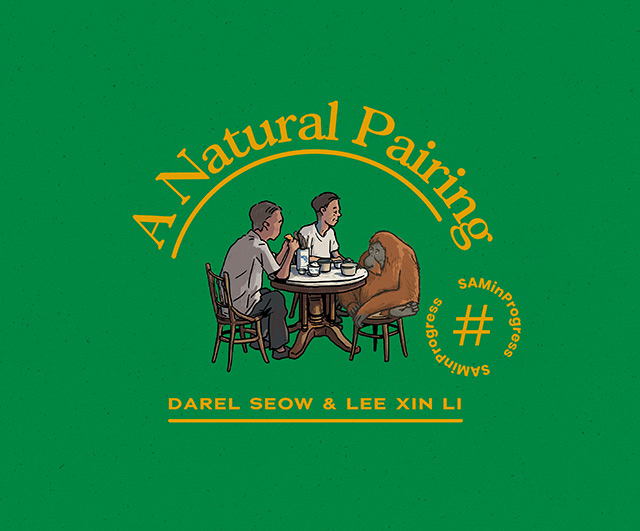 Is that the former Tiger Balm Building at Selegie? Ah Meng having a drink at an old school kopitiam? A flying wild boar? Illustrators Darel Seow and Lee Xin Li serve up An Unnatural History of the Singapore Art Museum's neighbourhood and invite you to share your memories too. Click to read Darel Seow and Lee Xin Li: A Natural Pairing on our blog now.