SAM Mini Mobile Museum: 'Slander!' by Jeremy Sharma
About the Exhibition
SAM Mini Mobile Museum is a travelling art exhibition held in partnership with the National Library Board.

The Mini Mobile Museum introduces the multifaceted nature of contemporary art through a selection of SAM's permanent collection artworks, adapted for non-museum spaces and created by Southeast Asian artists. Featuring art forms like drawing, installation, sound and video, the Mini Mobile Museum invites the viewer to an intimate experience of the commissioned artwork within a public space.
On view: Slander! by Jeremy Sharma

Slander! represents an extension of Jeremy Sharma's research into Singapore's films and popular culture of the 1950s and 1960s, and its title references the 1959 film Korban Fitnah (Victims of Slander). This film was also a central feature in Sharma's 2017 installation A White, White Day, which deconstructs the cinematic image. Slander! on the other hand revisits films produced between 1958 and 1963, which is the period sandwiched between the post-war heyday of Singapore's film industry and Singapore's eventual independence. In other words, Slander! looks back at a cultural moment when a new nation started rapidly urbanising, drafting and shaping its politics. It uses a system of modular structures with themes that recur in Sharma's practice—the modernist notions of shape, size, scale, seriality and repetition—drawing on digitised images from films as well as texts and objects.
_____
Film source: Asian Film Archive
Courtesy of ©Cathay-Keris Film Pte. Ltd.
about the artist
Jeremy Sharma is an artist and musician. His recent works and experiments look into scenes and places through the lens of modernity, while employing elements of voice, light, atmospheres, film, music, movement and architecture. Sharma also teaches at the McNally School of Fine Arts, LASALLE College of the Arts.
read more on the blog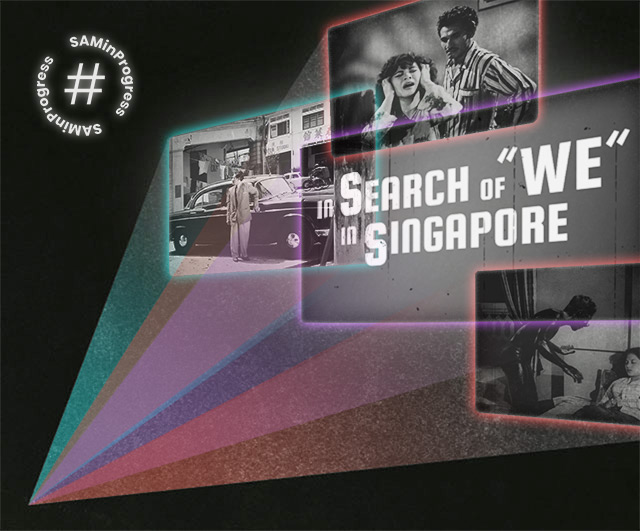 What has an "oily man", a bumbling journalist and a factory worker have to do with the making of Singapore as a nation? Let artist Jeremy Sharma and SAM curator Kenneth Tay take us through six films produced between the 1958 to 1963 to reflect on Singapore's changing landscape and politics as it marched towards independence. Click to read In Search of "We" in Singapore on our blog now.
public programmes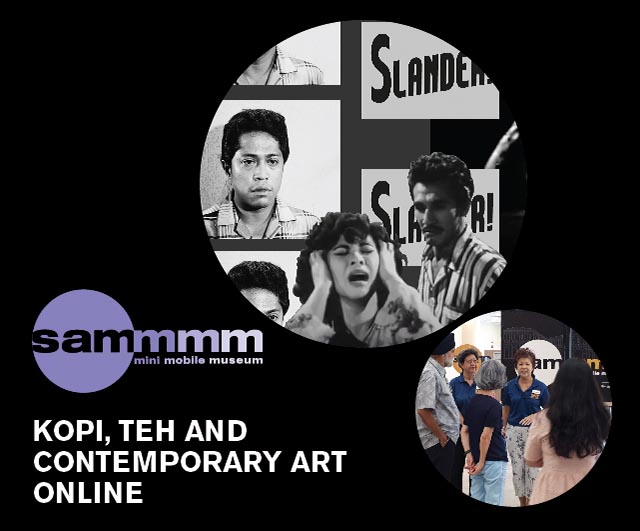 14
October
Thursday
03:30 PM
associated exhibition:
Mini Mobile Museum Jeremy Sharma