apb foundation signature art prize 2018 
EXHIBITION FOR ALL AGES
Inaugurated in 2008 by the Asia Pacific Breweries (APB) Foundation and the Singapore Art Museum, the triennial APB Foundation Signature Art Prize returns for its fourth edition in 2018. Recognising outstanding examples of contemporary art from both emerging and established artists over the previous three years, the prize puts the spotlight on the most compelling, cogent and complex works of art from the Asia-Pacific rim to the region of Central Asia.
The APB Foundation Signature Art Prize is worth SGD 100,000, with SGD 60,000 awarded to the Grand Prize winner and SGD 15,000 each to two Jurors' Choice Award winners. A People's Choice Award of SGD 10,000 will also be offered to the work that receives the highest number of public votes on-site.
For this fourth edition of the Prize, there were 113 nominated artworks from 46 countries and territories. 15 finalist works are presented in an exhibition taking place at the National Museum of Singapore, venue supporter for the Prize.
View this exhibition on Google Arts & Culture.

artists & artworks
Au Sow Yee
Malaysia
The Kris Project (2016)
Bae Young-whan
South Korea
Abstract Verb – Can you remember? (2016)
Club Ate
(Bhenji Ra + Justin Shoulder)
Australia
Ex Nilalang (Balud, Dyesebel, Lola ex Machina) (2015)
Fang Wei-wen
Taiwan
Republic of Rubber Tape (2016)
Jitish Kallat
India
The Infinite Episode (2016)
Leung Chi Wo + Sara Wong
Hong Kong
He was lost yesterday and we found him today and Museum of the Lost (2015)
Mata Aho Collective
New Zealand
Kaokao #1 (2014)
Yerbossyn Meldibeikov
Kazakhstan
Brand (2014 – 2015)
Phan Thao Nguyen
Vietnam
Tropical Siesta (2015 – 2017)
Propeller Group, The
Vietnam
AK-47 vs. M16 (2015)
Shubigi Rao
Singapore
Pulp: A Short Biography of the Banished Book. Vol I: Written in the Margins (2014–2016)
Thasnai Sethaseree
Thailand
Untitled (Hua Lamphong) (2016)
Yuichiro Tamura
Japan
Milky Bay / 裏切りの海 (2016)
Chikako Yamashiro
Japan
Mud man (2016)
Gede MAahendra Yasa
Indonesia
After Paradise Lost #1 (2014)
highlights
gede mahendra yasa
after paradise lost #1
shubigi rao
pulp: a short biography of the banished book. vol I: written in the margins
2014 – 2016
mixed media installation with video clips, giclée prints with text, ink drawings, books and table with 3 texts
thasnai sethaseree
untitled (hua lamphong)
2016
paper collage on buddhist monk robes
Close
apb foundation signature art prize 2018 
gede mahendra yasa
after paradise lost #1
After Paradise Lost #1 is rendered in the popular Batuan style of painting. The Batuan school developed in Bali in the late 1930s, and is characterised by a dense, layered composition that populates the canvas surface with a teeming array of figures, spaces and incidents. Yasa views this depiction of the masses as a political analogy, with divisions between important figures of history and ordinary crowds becoming blurred. He has depicted not only the bustle of everyday life on the island—Hindu temples, masked Barong dancers, tourists and surfers, as well as women dressed in traditional costume—but also included his own versions of famous paintings from Western and Indonesian art history. He juxtaposes, for instance, Raden Saleh's iconic painting, The Arrest of Prince Diponegoro (1857), which commemorates a turning point in the anti-colonial struggle in the Dutch East Indies, with Dutch painter Nicolaas Pieneman's depiction of the same subject, The Submission of Prince Diponegoro to General De Kock (c. 1830–35); as well as Théodore Géricault's The Raft of the Medusa (c. 1818–19) with Saleh's own A Flood in Java (c. 1865–1876).
As an artist, Gede Mahendra Yasa's primary object of investigation is the practice and discourse of painting, his medium of choice. The 'After Paradise Lost' series represents the artist's engagement with Balinese painting, a chief thematic concern being the relation of Balinese painting to the history and development of modern art in Indonesia, and particularly in Java.
This work is the winner of the APB Foundation Signature Art Prize 2018 People's Choice Award.
shubigi rao
pulp: a short biography of the banished book. vol I: written in the margins
2014 – 2016
mixed media installation with video clips, giclée prints with text, ink drawings, books and table with 3 texts
Written in the Margins represents the first complete portion of Shubigi Rao's ongoing project, Pulp: A Short Biography of the Banished Book. Pulp examines issues surrounding the destruction of books and libraries, and its first volume sees Rao interviewing individuals and researching sites in Europe connected to contemporary manifestations of the phenomenon. She is also writing several books on the topic, with the first, included in the present work, published two years ago.
Margins is designed as an interactive installation. A series of video interviews is indexed by a handmade card catalogue; the footage features a range of testimonies, from those of firefighters who tried to save the burning national library in Sarajevo during the Yugoslavian troubles of the 1990s, to a lector employed to preserve the purity of the Croatian language by expunging all Serbian and Russian words from Croatian national television. One interviewee speaks of her weekly protest outside the rebuilt Sarajevo city hall, which no longer houses the library, whilst another testifies to the efforts of cultural workers who, during the siege of Sarajevo, saved books and paintings by smuggling them out. Other components of the installation include photographs, books, texts, ink drawings, as well a conceptual guide to the project visualised as a phytogenetic tree—a taxonomic mind map of the work's thematic contours and classifications.
This work is the winner of the APB Foundation Signature Art Prize 2018 Jurors' Choice Award.
thasnai sethaseree
untitled (hua lamphong)
2016
paper collage on buddhist monk robes
Thasnai Sethaseree's massive artwork is a vibrant, tactile collage on a canvas of layered Thai Buddhist monks' robes, enfolding into its surface sheets of newspapers, images of modern architecture and political violence in Thailand, as well as printed texts of the new Thai Constitution and the 17th-century poem, "Prophetic Lament for Sri Ayutthaya". Laid over these various materials are strands of brightly-coloured paper streamers, rendered in the traditional Lanna paper cutting technique native to the region, and commonly seen in festivals in northern Thailand. The artist refers to his aesthetic here as "magical realism", one that is strongly evocative of everyday life in the kingdom. The luminous hues contribute, he remarks, "an electric frisson across the painting's foreground akin to the psychedelic neon tube lighting of a Thai temple fair."
Underlying this sense of celebration, however, are subtle references to the socio-political turmoil that Thailand has experienced in recent years, reinforcing the notion that beneath the veneer of ordinary life lies a fragile political truce. Referencing the culture of the north suggests the political division between north and south, while the allusion to the historic Hua Lamphong station in Bangkok hints at regional tensions. Built in 1916, the station became a symbol of modernisation and bureaucratic centralisation; it has attracted controversy of late over the proposal to have a high-speed rail take its place, provoking further questions about the centralisation and decentralisation of politics in Thailand.
This work is the winner of the APB Foundation Signature Art Prize 2018 Jurors' Choice Award.
phan thao nguyen
tropical siesta
2015 – 2017
2-channel video and oil painting on x-ray film backing (set of 6)
Tropical Siesta forms part of Vietnamese artist Phan Thao Nguyen's larger project, 'Poetic Amnesia'. The latter is based on the artist's research into the life and work of French Jesuit missionary, Alexandre de Rhodes, who is considered the father of the romanised Vietnamese script still in use today. Tropical Siesta is a two-channel video installation that tells an imaginary tale of rural Vietnam, informed by de Rhodes' colourful observations as he travelled through the country in the 17th century.
The universe created by Phan is one populated only by children, who make up an agricultural community. They engage not only in farming work, but play games of makebelieve—recreating, for instance, de Rhodes' accounts of various barbaric methods of punishment, as well as his documenting of a folktale of the worship of a Chinese princess as a water goddess. Accompanying the installation are several paintings, rendered on x-ray film backing, of images from the videos. The artist remarks of the world she has created: "I wish to construe a realm of works that are interconnected … by means of which genres can coexist in a dreamlike, democratic utopia. In such a realm, the grandiose and the humble, the brutal and the fragile, the documented and the fictional, the stable and the ephemeral, the fantastic and the practical cohabit."
This work is the Grand Prize winner of the APB Foundation Signature Art Prize 2018.
submission closes on 13 AUG '18
Calling writers of all ages and backgrounds!

SAM is looking for the most creative poems inspired by any of the APB Foundation Signature Art Prize 2018 finalist artworks!

The winners of the Top 3 poems will each receive S$100 worth of book vouchers, PLUS the exclusive opportunity to present their poems alongside the featured artworks at the APB Foundation Signature Art Prize 2018 exhibition during the upcoming Singapore Night Festival!


How to Submit?
1. On-site: obtain an entry form on-site at the exhibition gallery and write your poem on the back of the paper, then submit your entry to the front desk.

2. Online: email a soft-copy of your poem(s) to [email protected] with the subject title: SAP Poetry Competition Submission by Monday, 13 August 2018, 23:59 (SGT). Email must include participant's full name and contact number. Please refer to the Terms and Conditions below for more information.


Submission Requirements

• Submission period opens from Friday, 13 July 2018 to Monday, 13 August 2018, 23:59 (SGT).

• For soft-copy submissions, submitted poem(s) must be:
• in soft-copy and typewritten in English;
• no longer than one A4 page in length; and
• saved in PDF format and named according to: <Chosen Artwork>_<Participant's Name>_<Poem Title>, e.g. The Infinite Episode_Alex Tan_My Poem.pdf

• Each participant may only submit one poem per artwork, up to a maximum of 15 poems for 15 artworks per participant.

• Only original and unpublished poems will be accepted.

• Participants may choose to respond on the visual appearance, theme, concept, and/or impact of the artworks in their poems.

• Poems submitted must either be a creative interpretation of or written in response to one of the artworks showcased at the APB Foundation Signature Art Prize 2018 exhibition.

• Poems should not contain swear words, profanities, or plagiarised content.
Evaluation Criteria

Entries will be evaluated for poetic quality, originality, and creative use of language, as well as their interaction with and perspective on and/or interesting takes on the chosen artwork. 6 entries will be shortlisted by Singaporean poets Marc Nair and Tania de Rozario, from which 3 winning poems will be selected by SAM's judging panel.

Time to make a trip down to the exhibition and flex your writing muscles!

Good luck!
Follow our Facebook events page for more updates.
terms and conditions
By submitting a poem/poems and entering the competition, the participant acknowledges and agrees to abide and be bound by all the following Terms and Conditions:

1. ELIGIBILITY
1.1. The competition is free and open to Singapore Citizens and Permanent Residents. There are no age restrictions.
1.2. Entries that have been previously published in journals or anthologies (online or in print), accepted for publication, broadcast through any public media (e.g. internet, radio, television, newspapers or journals), or have won prizes in competitions will not be considered.
1.3. Entries must not also be concurrently submitted for other competitions, publications, or broadcast on any media until the results of this competition are released.
1.4. Employees of the Singapore Art Museum ("SAM") or Sing Lit Station ("SLS") will not be considered.
1.5. Any participant who knowingly gives inaccurate or misleading information will be disqualified.

2. ORIGINALITY
2.1 Participants are responsible for ensuring that all entries submitted are Original. "Original" refers to a unique, new creative work independently conceived by its author (in this case, the participant) with no other significant external third-party contribution or influence.

3. ADJUDICATION
3.1. An independent judging panel comprising two (2) Singaporean poets will shortlist up to six (6) entries based on the poetic quality, creative use of language and perspectives on the artwork.
3.2. The SAM judging panel will further select three (3) top entries from the shortlisted entries based on their creative interpretation of and interesting perspectives on the artwork.
3.3. Shortlisted entries will be notified by the week of 17 August 2018.
3.4. The top three (3) entries will be notified by the week of 20 August 2018.
3.5. Participants of shortlisted and/or winning entries are to provide a biography and profile photograph if required by SAM.

4. AWARDS
4.1. Each of the top 3 entries will:
• be awarded with book voucher(s) worth a total of S$100.
• recite their poems beside the relevant artworks during the Singapore Night Festival 2018.

5. INTELLECTUAL PROPERTY
5.1. The copyright of each poem remains with the writer. However, writers of the six (6) shortlisted poems, by entering the competition, grant Singapore Art Museum (SAM) the right to publish and/or broadcast their poems.

6. WARRANTIES
6.1. By entering this competition, the participant warrants and represents that the participant has created and owns all the intellectual property rights to the entry submitted, and the use of such intellectual property rights by SAM will not infringe the intellectual property rights of any third-party. The Participant shall indemnify and hold SAM harmless from and against all liability for any third-party claims, demands, losses, damages, penalties and injuries arising from or in connection with the same.

7. GENERAL
7.1. The SAM reserves the right to:
• amend the rules and conditions of the competition.
• disqualify any entry that does not comply fully with the stated requirements and terms and conditions specified in this document.
7.2. In the event of any disputes, these Terms and Conditions shall be governed by and construed in accordance with the laws of Singapore.
associated events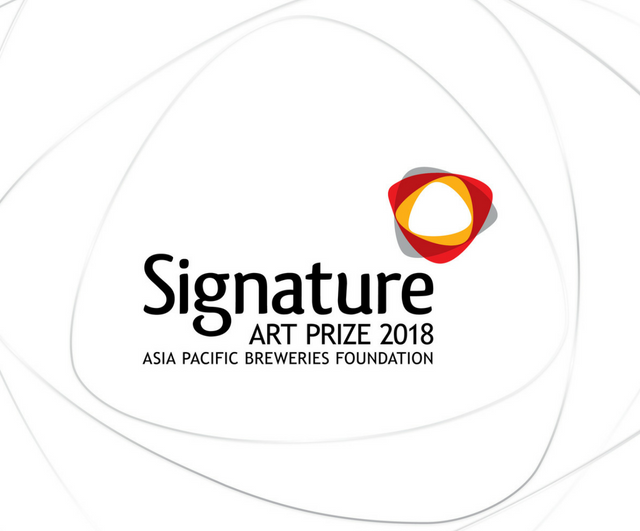 18
August
Saturday
10:30 AM
WORKSHOP PUBLIC PROGRAMME
associated exhibition:
signatureartprize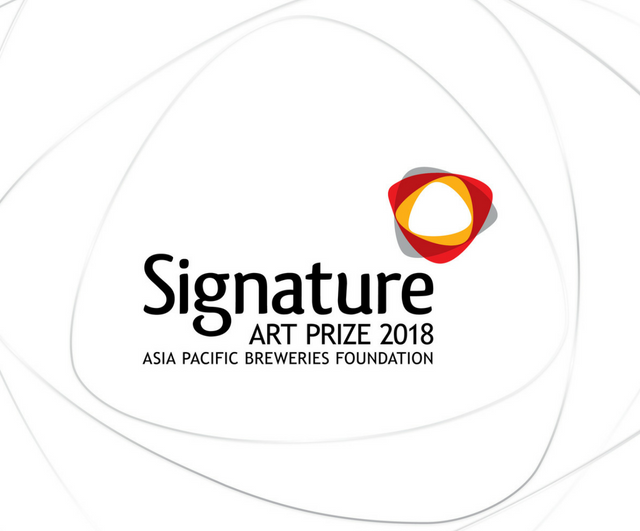 01
September
Saturday
02:00 PM
TALKS PUBLIC PROGRAMME
associated exhibition:
signatureartprize